Editor's Note: This project was written by two anonymous students.
Bear Bucks are an additional plan you can get to your meal plan. They are used at the Chic Fila, The POD, and Einstein Bagel Bros. Students find these helpful when the cafe food is not up to par. Also the Cafe has very limited hours and athletes schedules can tend to make them miss the very limited Cafe hours. Bear bucks can be very useful, and can be spent as fast as they are received. Spending them wisely is key. 
Chick Fil A is where Upike students spend their bear bucks consistently. Chick Fil A is pretty expensive fast food restaurant business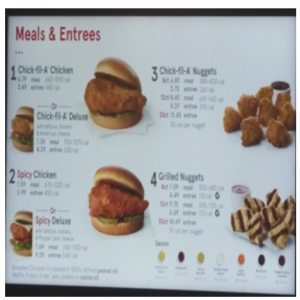 that is busy from the time they open until they are closed.
Einstein Bagel Bros is a neighboring business that also gets a lot of attention from the students. Einstein Bagel Bros is a cafe style food platform that serves breakfast items, coffee, and more. Whenever students have early class or are craving a muffin, Einstein is easily available.
The Pod is a mini convenience store that has all of the typical snacks and junk food that you would find at a corner store or walmart. It is very easy to waste all of your bear bucks here because not only is it expensive but the pod has household items that could be very useful if you are struggling and need some toiletry or hygiene products.
In order to show how easy bear bucks can be spent we conducted a survey and asked this years freshmen and upperclassmen questions about their usage of bearbucks, how fast they spent them, where they frequently spent them, and etc.
A recurring problem with bear bucks is that after freshman year, students stop getting bear bucks. Upperclassmen have said that they get a bigger plan to satisfy their needs, then have bear bucks wasted at the end of the year, where the university pockets the rest when they are not used. We provided the survey ao you as students could get other students view on this topic.
1) How many Bear Bucks did you buy at the beginning of this semester?
 I don't use Bear Bucks  53
2) Estimate how many Bear Bucks you have left right now.
I don't use bear bucks   52
3) Where do you spend your Bear Bucks most often?
Einstein Bagel Bros.   12
I don't use bear bucks    52
How do you plan on spending your Bear Bucks more wisely next semester?
"Between the cost of tuition and my bills I do not have enough money to have a meal plan or bear bucks, I wish either one meal per day and/or so many bear bucks would be allotted to the commuting students who can't afford to eat during the day otherwise.
 I do not plan to purchase Bear Bucks because I do not agree with the fact that if they are not used then the school gets to pocket it.
 Bear bucks are basically there for a split second for students because you use them all so quickly because the cafeteria sucks. Once I moved off campus, I realized that it would me more expensive to buy a meal plan than to pack my lunch EVEN THOUGH the business office recommends it because it "saves" money. When in reality, if you don't use it all by the end of the semester they put it in their pocket. Not to mention if you want something from POD it is 2$ higher than what it is at a normal gas station. So, it makes it easy to go through the little bit of cash as bear bucks you do have for the semester. You should have an allowance, if you have a meal plan/bear bucks, on how much you can spend on either… 7$ for the cafe or 7$ for Chick‐fil‐A. It's both 7$. Why should I spend an extra 7$ out of my bear bucks if it is the same price? Bear bucks should be used for anything other than 3 meals a day or anything not food.
  I no longer use Bear bucks because I was using my money wisely and because I am a commuter and I did not use all of my balance in one full year, the university took my remaining balance of around $200.
This is a problem that needs to be fixed.  I plan on spending my bear bucks more wisely next semester because I will go get food at the store to eat at my apartment and not chick all the time.  Commuters have to purchase Bear Bucks out of pocket, so I don't partake.
This semester I did not get Bear Bucks due to living off campus, but I answered how I used them in past years. I will be graduating in December, but if I had another semester I would spend less on bagels because the prices really add up.  I will spread them out more by eating in the cafe and my room more often.  at POD, Chic, and coffee at Eisenstein.
 I always bear buck left over.  Buying healthier food at a grocery store, only use it for coffee at Einstein's  Space out my visits to chic more eat mor chicken  ‐ I don't really use bear bucks that often.  Depending on cafe to serve better food  Not spend them all at the first of the semester  Spacing out the amount of times I go to POD or Chick."
Editor's Note: The survey responses above (indicated in quotation marks) are the words of the students, and have not been altered for grammatical inaccuracies, etc.