153

Dorm Friendly Recipe Book

Savannah McInnerney
This book is full of dorm friendly recipes. These recipes require very few ingredients and steps; perfect for any college student. These recipes are also very affordable, most recipes yield several servings. You could eat on it all week or share with your roommate or friends!
APPLIANCES: Kentucky law prohibits the use of any device containing a heating element, such as portable heaters, hotplates, George Foreman-type grills, toaster ovens, toasters. Extension cords are also not permitted. Surge protectors with breakers are allowed.
Only two portable refrigerators, with a maximum 4.5 cubic feet capacity (1.7 capacity is recommended), are permitted in each residence hall room. To practice good stewardship and power conservation, it is strongly recommended that one refrigerator be shared by roommates whenever possible.
You can find the full guidelines to residential living at
https://www.upike.edu/wp-content/uploads/2019/09/student-handbook-residential-living-guidelines1.pdf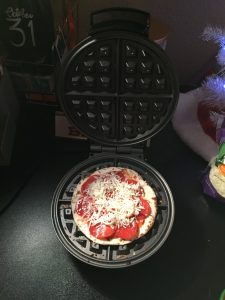 Photo From: Savannah McInnerney
Pizzadilla 
2 tortillas
1/3 cup of mozzarella cheese
1 tbsp pizza sauce
Pepperoni slices
Make sure your waffle iron is preheated.
Spread the pizza sauce evenly on both tortillas.
Place one tortilla on waffle iron.
Add the cheese and pepperoni.
Place another tortilla on top.
Close waffle iron and let cook for approx. 2 minutes or until cheese is melted.
Chicken & Potatoes 
Photo From: Savannah McInnerney
8 chicken tenderloins
4 potatoes (diced)
1 cup Lemon and Herb marinade
1/4 tsp of minced garlic
Place chicken tenderloins in crockpot.
Add potatoes, marinade and garlic.
Cook on low for 4 hours.
Waffled Cinnamon Rolls 
Photo From: Savannah McInnerney
1 pack of cinnamon rolls
Nonstick cooking spray
Spray nonstick spray on waffle maker.
Place one cinnamon roll at a time.
Cook until golden (Approx. 3-4 minutes).
Drizzle frosting on top.
Teriyaki Chicken and Rice 
8 chicken tenderloins
1 cup of rice
2 cups of water
1 cup of teriyaki marinade
1/4 tsp minced garlic
Salt and pepper
Add rice, water, marinade, garlic, salt, and pepper to the crockpot.
Mix these ingredients together.
Place tenderloins on top of rice.
Cook on slow for 4 hours, mixing every hour.
1 package of Polska Kielbasa
4 potatoes
1/2 of an onion
1/4 cup water
Chop kielbasa, potatoes, and onion.
Place all ingredients in crockpot and stir.
Cook on low for 4 hours.
1 package of cream cheese
1/2 cup sour cream
1 cup ricotta cheese
1 tsp minced garlic
1 tsp Italian seasoning
1 box bowtie pasta
2 (24 oz.) jars of spaghetti sauce
1 (24 oz.) jar of water
2 cups shredded mozzarella cheese
In a bowl, mix ricotta, sour cream, cream cheese, garlic, and Italian seasoning.
Place half jar of spaghetti sauce in bottom of crockpot.
Layer half box of pasta on top of sauce.
Add 1/2 jar of spaghetti sauce and 1/2 jar of water on top of pasta noodles.
Dollop entire cream cheese mixture in crockpot.
Add the rest of the noodles on top.
Pour 1 jar pasta sauce and 1/2 jar of water in top of noodles.
Cook on low for 3 hours.
Stir the pasta.
Add 2 cups mozzarella on top of pasta.
Cook on low for an additional 15 minutes.
1 tbsp shredded cheese
Pinch of salt and pepper
Ham (Optional)
1tsp diced onion (Optional)
Beat the eggs in a mug.
Add milk, cheese, salt & pepper, ham, and onion to the egg mixture.
Microwave for 1 1/2-2 minutes.
1/2 cup pastas noodles
1/2 cup water
1/4 cup any kind of cheese
3 tbsp milk
Pinch of salt & pepper
Add pasta noodles, water, and salt in a microwaveable mug.
Microwave for 2-3 minutes, then stir.
Add cheese, milk, and pepper, then stir.
Microwave for an additional 30 seconds to melt cheese.