118

Finding Your Crowd(s) and Why It's Important

Keiley Bentley
Starting college can be very stressful; between deciding majors, decorating your dorm, going to classes, and completing assignments, students have very little time to focus on themselves. The scariest task that incoming first-year students have to tackle is trying to make friends and form connections. Most are worried about not finding those that will love or accept them or are just concerned that they will not get into the right group.
Most colleges understand the struggle for these students and have established many programs to help students find their place with their people. For example, UPIKE has multiple programs but the most popular are, What's Up Wednesday (WuW), Center for Student Success, and Campus Activities Board. Many people attend these events not knowing a single soul, but eventually leave with life-long friends.
Multiple students were asked what groups that they are apart of on campus and why they think it's important for first-year students to get involved in groups. To which one replied, "it keeps you educated on your college environment and it forges relationships which are vital to your first-year experience." Another student said, "It provides mutualism between the student body. You can help one another with what one may struggle in."
When you get involved on campus, you break out of your comfort zone and form relationships that you may never have had if you hadn't got involved. You will make friends that will not only share in your struggles of certain classes, adjusting to dorm life, and dealing with homesickness, but they will also build you up to be the best version of yourself that you can be.
What's Up Wednesday is held most Wednesdays and it entails a new topic at every event. WuW also has an Instagram to keep students up to date on upcoming events. The Campus Activity Board hosts multiple events throughout the school year like Wing and Sing (chicken wings and karaoke), Splash Bash (glow-in-the-dark paint is thrown on everyone while dancing along to great music), and Wing and Trivia (chicken wings and trivia questions). All events are free, and they always include great food. Every event is interesting and fun so that students will be eager to go and make new friends. These events get you out of your dorm and make you meet new people.
Graphic created by Brandy Osborne
An event regularly held by the campus activity board is BINGO, in which students have the chance of winning great prizes like cleaning essentials, movie night items, and even crockpots.
Graphic created by Stephanie Stiltner
During the first of the year, WuW hosts an event called "Taste of Home" in which the employees of Student Success makes multiple different kinds of "home-cooked" meals like chicken-and-dumplings, pulled pork, etc. that you can cook in a crock-pot in your dorm. PC: Stephanie Stiltner
Your first-year advisors are located in the Center for Student Success, but students are always coming in and out of the lounge area constantly. Many unlikely relationships have been made in this area and have remained strong. Cheerleaders and football players, all the way to aspiring artists gather in this area and form relationships. Individually, they feel they have nothing in common, but when they get together, they actually are very much alike. They might have the same taste in music, the same major, or even the same favorite flavor of Pop-Tarts.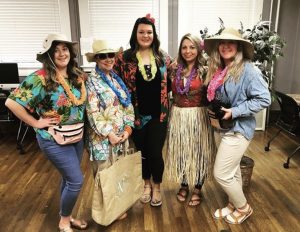 Photo by: Stephanie Stiltner
Basically, finding your place in an unfamiliar space is hard, but when you get involved in groups or events on campus, life can become a lot simpler. You can make new friends (even some unlikely ones), take breaks from studying, get your belly full, and eventually find yourself along the way.