120

First Year Survival Guide For Parents! ​

Brian Blackburn
Being a student isn't easy, and being a 
parent is even harder; So what does that 
mean for us? Get ready for ups and 
downs, as we go all around and hear 
from parents of all walks of life and 
their experience as they go to school!
​
My Story
Exactly one year before I stared University, my wife and I welcomed our son to the world! It was the single most powerful moment in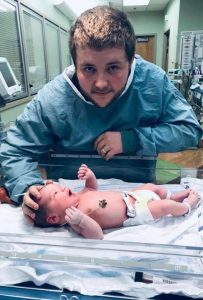 my life. In that moment when I first looked into his eyes, I knew I had to do everything to ensure he has the best life. ​Shortly after we welcomed our son to the world, our family gained a member. My then fiancés brother was placed into our custody. Now I have even more weight on my shoulders!​ The time has finally arrived to start this new journey with two children. Thankfully, my now wife is such a huge support. I have a lot on my plate and has struggled, but with her here it really eased pressure. But that don't mean it was easy at all. It was; well it's still is hard. Having to stay up all night with your sick son when you have an exam the next morning is defiantly difficult. Studying felt impossible at times, and this made me constantly worry over my grades.​
By the end of the semester I discovered exactly what I needed to succeed. Time! But I'm sure you already knew this. But if you schedule your time right, you will have plenty of spare time. I have family time, and I have studying time. And I found it very important not to mix those two. A lot of people I talked to that did this led them to failure. Combining studying with children, as least for me means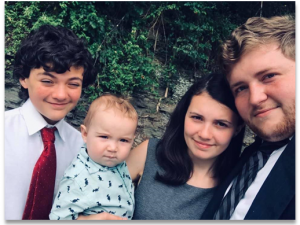 getting frustrated and getting absolutely nothing done. I ruined time with my family and studied nothing, which was a complete waist of time. And once I separated the two and mainly studied on campus between classes I started really succeeding at this!​
Other People's Stories
So I reached out to different people and told them to tell me their stories. And the first person I spoke to was in a much different situation than I. She was a single teen mom, with nearly no support. She expressed how hard it was to go though this, but she had to do it for her son. She spoke about the importance of time management and seeking help. Bringing her child to class was becoming hard, and she didn't know if she could do this. But one of her professors told her about free programs offered in the county for childcare. So she reached out to them and enrolled her 6 month old son into a childcare program at absolutely no cost. She then found how much more effective she was when she accepted help. She's now a social worker and has a beautiful family. Her one tip was to find solutions no matter what, because your little one deserves the best life possible.​
This next girl had so much support. She lived with her parents and childcare wasn't a concern at all. But that doesn't mean she had it easy. She was the mother of a 3 month old baby girl and her parents ran a business so after school she had to do it all herself. Which she said caused her not to study at all. But she did have help offered but she thought it would just be simpler for her to do it herself. She quickly got overwhelmed, and eventually dropped out. She got training as a CNA and said that she wished she would have finished so her daughter could have a better life. She does plan however to start taking nursing classes soon.​
Don't Give Up!
The Picture to the right is of my beautiful son in the Café, and that crazy smile is all I need to charge forward. And I know your child is wonderful too. You can succeed and give them exactly what they deserve. People like us has an advantage. We have a reason much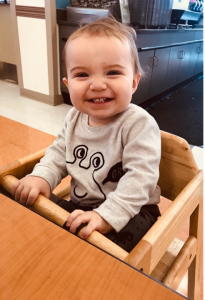 larger than anyone else on campus. We have a child that need us to succeed! They depend on you. So do like I do and use that as the fuel to get across that finish line. Make your own story and make that child of your proud!!!​
Sources:
Pictures are by Brian Blackburn