123

Making New Friends

James Grant Joyce; Khristopher Begley; Jackson Wierwille; and Jaren Johnson
Moving In
Right off the bat, you will be meeting your new roommate, you'll soon come to realize that you will see this person a lot, so become friends with your roommate, find common interests and conversate with them. ​
Becoming friends with your roommate is crucial, if you and a roommate doesn't talk and don't consider each other friends it could make for uneasy living.​
If you've found yourself with an obnoxious roommate, do not be afraid to request for a new roommate, some additional moving may be required, but it will be beneficial in the long run.​
Orientation Week​
Orientation week is a great opportunity to have fun, get used to the campus, and make new friends.​
Don't be afraid to take yourself out of your comfort zone, talk to people, they don't bite, you'd be surprised as to how open people are.​
During Orientation week there are multiple events for students to attend to make new friends, including the UPike service day or meeting your first year teachers. ​
Participating in Orientation week can be a huge factor for making new friends and will help you get out of the nervousness that is starting college.​
Making Friends With Classmates​
Making friends with your classmates is useful for many reasons, more friends to have, share work, and having someone to study with.​
There isn't any assigned seats, so sit wherever or whoever you please, talk to the people near you and make the best of where you're at.​
Going to the library to study can also be useful, you may find someone to study with.​
Be Social​
College work can be difficult, tiring, and overall make you wanna go crazy, so its healthy to get out of your room every so often, go to the cafe, or the lounge, you can even just take a walk around campus to get fresh air.​
​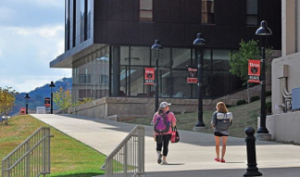 The Cafe​
The cafe serves from breakfast to dinner, and is free as long as you swipe your card, so many students take advantage of the free food, which means there is usually not a time where the cafe has many people in it.​
Sitting and talking with people you haven't talked to before can help for getting new friends.​
You could even sit with friends you already have.​
The Lounge​
The lounge is one of the most frequented places on campus, and is the best place to find people to hang out with, friends or strangers.​
Pool tables, air hockey table, and multiple arcade machines make for a social environment where people like to hang out.​
If you have time and are bored, head to the lounge and challenge someone to pool or air hockey.​
There are two rooms to the lounge, in the 2nd room, 2 flat screen tvs with couches where you can watch things such as YouTube, Netflix, or even play games.​
There is also a ping pong table to play with while you hang out with friends. ​
This room is even the host to many events such as Bingo and karaoke, which you could attend to socialize or just go for free food! ​
Upperclassmen's Take​
After asking multiple upperclassmen what is one thing you wish you were told before attending UPike university, ⅝ of them said: " I wish someone had told me how important it is to make friends and at least talk to everyone once so that you know everyone."​
Having friends in college is an important thing, these people may become your lifelong friend or at least be there for you throughout college, so never shy away from talking to someone you don't know, you never know what might happen.​