158

Ten Things Every Freshman Needs to Bring to College

Zachary Hill; Addison Barrett; and Stephanie Crider
While many freshmen think there is a lot of things to buy, many students go out and get things that the university will not allow or things that as the year goes on will not use. We have compiled a list of items that you will for sure use in college and will help you succeed. A study was done that showed that 20% of first-year students drop out of college (Sneyers and De Witte, 2017). This dropout rate could be caused by many things but a big one is being away from home. Moving out of the house is big for every college student but being able to adapt and get used to being on your own is what makes a successful student from someone who drops out. If you can make your dorm feel as much as home as you can you are way more like to not only be a good student but be happy while in college. Here are some things that we feel are a must for your dorm and some things you should try and stick away from.
Surge Protector: In dorm rooms there is not many outlets, so with a surge protector it will give you multiple. They will protect your expensive electronics from a power surge. Also, many schools aren't allowed to have extension cords.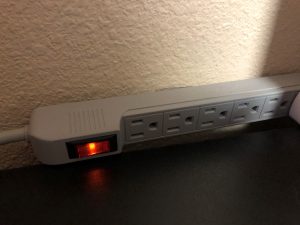 Toolbox: A tool will come in handy in many reasons. When trying to move furniture around you can use the tape measure to make sure everything fits. Also, we bought shelfs and we needed screw drivers and other tools.
First Aid Kit: You can choose what items you want to put in a first aid kit. For some examples: Advil, band aids, cough drops, bug bite itch cream. It is nice to have when you really need one of these things.
Fan: Even though most dorms have air conditioning units in the room sometimes you need a fan. You could end up with a roommate who likes it hot so you can have the fan to point on yourself.
Dorm Room Decorations: Making your dorm room feel like home will keep you here a school. As we know the dorm rooms look like jail cells. Having some decorations or wall pictures will make the room feel homier.
Command Hooks/Strips: In college you obviously can't put nails in the walls, so command strips will be your best friend when hanging stuff.
Mattress Pad: Dorm mattresses are never comfortable so this will be a necessity.
Bed Risers: Sometimes dorm beds will have risers made on the bed, but mine don't. When you have bed risers it gives you more room under your bed to put stuff for storage.
Storage Drawers: Having these extras drawers is great because some dorms don't have any closet space, and nowhere to hang anything. They go perfectly under your bed.
Gaming System/Tv: There will be days you just want to be in your room and watch movies. So, having your gaming system and tv will let you be able to do this. Personally, I like to have my tv playing will I'm in my room cleaning or doing homework to have a little background noise.
Ten Things Every Freshman Might Bring to College But They Don't Need too
Candles: Having candles is a fire hazard. We know that dorm rooms might not smell the best, but the best alternative is a wall flower, and air fresheners.
Expensive jewelry: These expensive items could get stolen or lost. Such as jewelry, designer clothes, and personal items you don't want to get stolen.
Plug in Christmas lights: Many colleges don't allow you to have plug in Christmas lights because it is a fire hazard, but you can replace those with battery powered Christmas lights.
Toaster: A toaster has open coils, and this can be another fire hazard. Many colleges won't allow you to have a toaster because this reason.
Extension Cord: Many colleges won't allow extension cords. They do allow surge protectors though. Extension cords could overwhelm the dorm electrical system and could cause a fire or some other kind of danger.
Don't bring double: Before you move in you should get assigned your roommate. You should reach out to them, so you don't bring double stuff. Such as microwaves, refrigerators and stuff like that.
Ironing Board: You Really don't need to bring an iron because there is not a lot of room for it, so you won't need an ironing board. The room is so tiny, and you probably won't have much to iron any way.
Real Utensils: The sink is in the bathroom if you have community bathrooms, so you don't want to go to the bathroom to wash your dishes. You just need to buy plastic forks, spoons, and knifes and bowls and plates.
Iron: In these dorms there is not a lot of storage. There Is really no need to bring an iron. If you have a shirt or something that you think is wrinkly just go put it in the dryer for a few.
To many pairs of shoes: In these small dorm rooms you have no room for a bunch of shoes. You probably only need about 4 or 5 pair.