2

Using Canvas to be a Successful Student

Ryan Livers; Logan Hensley; and Vincent Whitaker
Using Canvas is a two-way street of communication between students and instructors. However, the student is responsible to take
initiative and learn how to use the Learning Management System, and this is something that the teacher doesn't explicitly teach the
student how to do. With this, the student needs to understand tips and tricks that are useful to help a student maintain maximum efficiency and to help the student understand their position with grades and due assignments. A student can learn how an instructor manages their class to enable themselves to always know where to find information. A student can manage the information by learning how to perform functions in canvas that allow the student to save time. A problem some students have is accessing certain files, and adapting to different teachers uploading styles on Canvas.
Learning tricks to manage a new LMS is the first thing that I like to do when I am introduced to a new one. My technological background helps to learn things about a new LMS quickly when other people might struggle to adapt. One thing that is useful for Canvas is the ability to change the view to see your classes organized in your preferred view, this helps save time and make it more comfortable to the user. This helps with showing grades in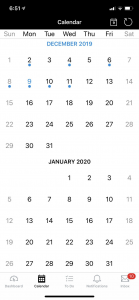 a timely fashion as you can also change canvas to show grades on the homepage. A useful function of canvas is the calendar because the calendar shows the deadlines that teachers set, as well as the deadlines that users set. Student Sage Grandon said, "Learning where teachers upload files is the most  important part of staying on top of assignments and upcoming tests." It is useful to establish where each teacher uploads files so that you know where to study and submit assignments.
One tip that is useful is to make sure you use Firefox, Chrome or Safari for a web browser. These browsers are the most compatible with Canvas. Internet Explorer and Edge are somewhat compatible but both have issues, with canvas and other programs. The mobile app is also very helpful to download the Canvas mobile app, the app gives you quick access to grades and assignments. This is a great feature because you can check grades and assignments in an instant when you aren't around a computer. Canvas is very accessible technology-wise, so it helps many students find success in college. You can also enable notifications on the app will alert you when grades or assignments are posted. Noah Wyborny said "Email notifications are the most important part of Canvas, that is one thing I advise all incoming freshman to set up"
Hensley, Logan M, and Noah Wyborny.
Hensley, Logan M, and Sage Grandon.
"Frequently Asked Questions (FAQ) for Instructors." Frequently Asked Questions (FAQ) for Instructors | Canvas LMS Community, community.canvaslms.com/docs/DOC-2287.