161

What You Need to Know about First-Year Residence Halls

Korbin Spencer; Halee Warbel; and Zoe Ingram
As current first-year students, we know that before move-in day, all we wanted were some pictures of the dorms and first-hand advice on how to live in them. All that UPIKE's website offers is the blueprint of the dorm rooms and some of the rules on what you can and cannot bring into them. We picked this topic so that we could give incoming students tips on dorm life and include multiple perspectives. We also want to tell them tips for the room and provide them with visuals so that they can feel more prepared.
When I first saw my room, my first thought was how small it was and how I had to share this tiny space with another person. Within a short time, it was easy to adjust to it. I hope that these tips and photos help you to adjust to your space and give you an idea of what to expect.
Put hooks on the back of the door.
Put storage bins under the bed.
Put storage bins under the sink.
Put extra storage in the bathroom. (rolling cart, behind the toilet shelves)
Hang things on the wall.
Put decorative pillows on the bed.
Put pictures up everywhere.
Respect your roommate's things.
Contact each other to find out who is bring the fridge, microwave, etc.
Make your space in the room your own.
Going into my freshman year at UPIKE, I had no idea what the dorms looked like or how they can be arranged. I hope this helps you visualize and plan out your dorm! This dorm is a single dorm in Derianna. Here are suggestions and ideas for making your room your home.
Storage, storage and more storage:
Bring shoe storage.
Bring extra clothing storage.
Bring food storage.
Use a rolling cart for storage.
Your clothes
And your food
Bring pictures
Put quotes all around
Use whiteboards and corkboards
Bring lights (they must be battery operated)
Put extra pillows and blankets on your bed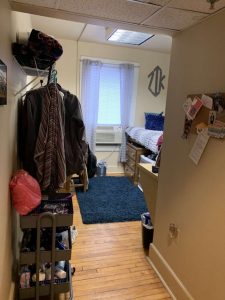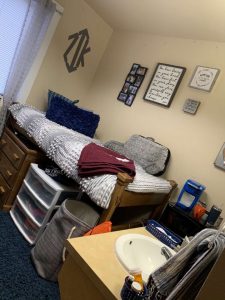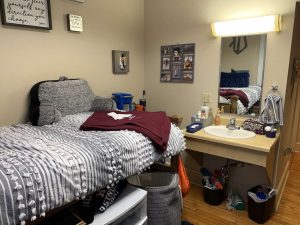 Condit Hall:
Condit is the freshman dorm. It is a community-style bathroom. I interviewed one of my teammates and her roommate, Alyssa and Abby to find out suggestions they would give to incoming freshmen.
Next, I asked them, "what was the one thing in your room that made you feel like it was yours?" I got this question when I read the article, "How can Residence Hall Spaces Facilitate Student Belonging In the article, by Planning for Higher Education, they interview students about their rooms and what they did to make it better or make it feel like home. Alyssa and Abby both answered the same way and felt like it was their "safe place." Michelle Samura said, "During the major transitions from adolescence to adulthood and from dependent to independent living, college students benefit from having spaces in which they feel anchored." When you have control over your space, you generally are more satisfied. (Samura)
Samura, Michelle1. "How Can Residence Hall Spaces Facilitate Student Belonging?" Planning for Higher Education, vol. 44, no. 4, July 2016, pp. 90–101. EBSCOhost, search.ebscohost.com/login.aspx?direct=true&AuthType=ip,shib&db=eue&AN=119398 9 48&site=ehost-live
Food storage
Storage for clothes
Use plastic shelves for books and other items
Step stools (the beds are tall)
Chairs
Fans
Fridge
Microwave
T.V.
Shower shoes
When entering my freshman year at UPIKE, I did not know what to expect when moving into the dorms. I did not know what it would be like or how I would be able to comfortably fit everything into in my room. I share the room with my roommate, and the floor has community showers.
Shower shoes
Shower caddy
Microwave
Refrigerator
T.V.