9

Annotated Bibliography

Dr. Sandi Van Lieu
During your research in your college classes, you may be asked to write an annotated bibliography.
What is an Annotated Bibliography?
An annotated bibliography is a full citation (in either MLA or APA format) of a source, followed by a brief description and evaluation of the book or article. See the following example: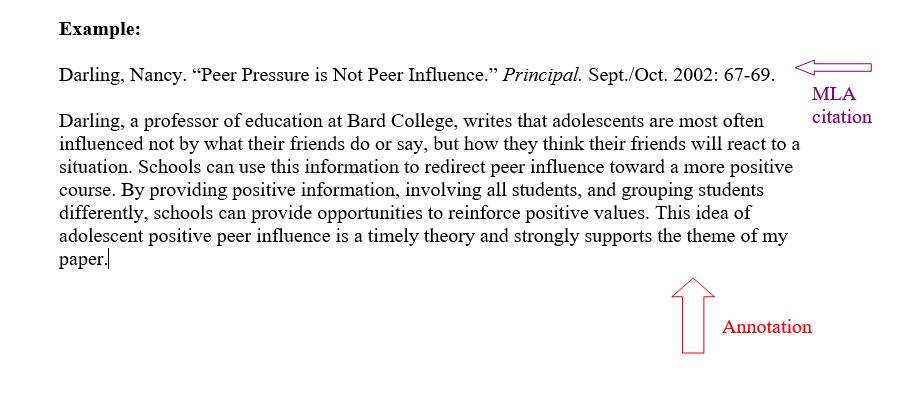 What to put in the annotation:
Information: A summary of your findings
Evaluation: What did you think of it, how will it help your topic
Comparison: How it compares to other books/articles
Authority: The background of the author
Annotated bibliographies are not difficult; just remember it's an organized list of the sources you've used, each of which is followed by a brief note—the annotation.
Examples
Here are a couple of entries Antonio makes in his annotated bibliography for an essay he is writing on head injuries in football. Using the same search terms ("helmets," "NFL," and "head injuries"), a search of Academic Search Complete in his college library nets him entries 1, 2, and 4, and a search on Google nets him entry 3. Drawing from the color-coding suggestion, Antonio distinguishes between direct quotation (red), paraphrase (blue) and summary (purple), by using different font colors for each.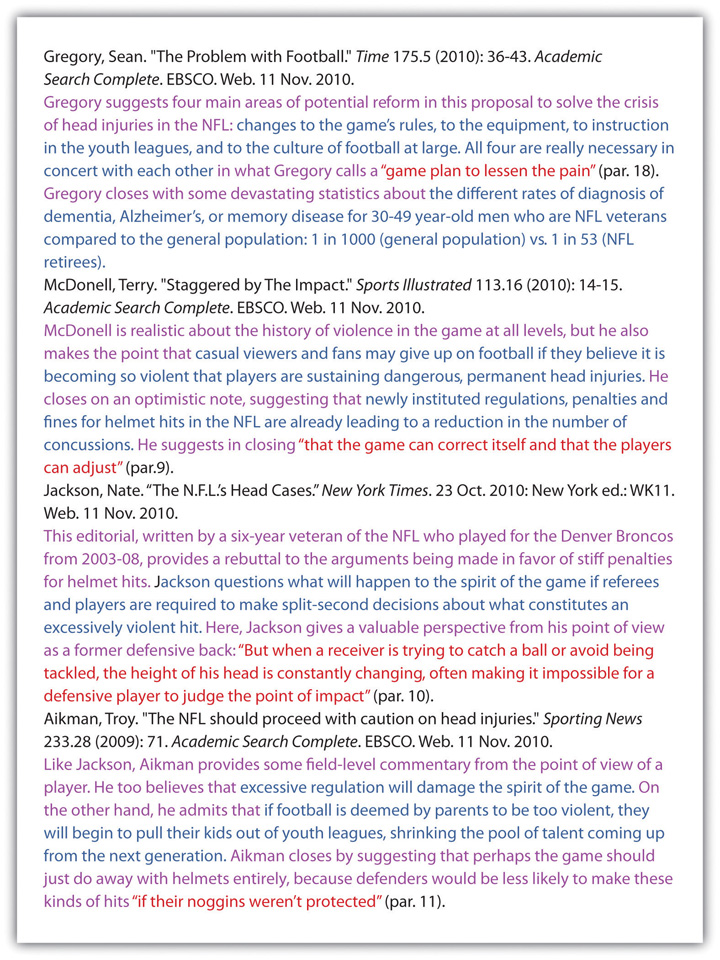 See below for another example of how your annotated bibliography can look:
Carlos Smith
Prof. Fitzmaurice
ENG102
Annotated Bibliography
Annotated Bibliography
Baym, Nina. The Scarlet Letter: A Reading. Twayne Publishers: Boston, 1986.
Baym discusses the impact of Hawthorne's famous work, its approach toward tragedy, structure, dynamics, psychology, symbolism, allegory and a number of other themes and ideas. The author also offers a review of previous critical responses to the book. The chapter on characters contains vital information on Hester and the themes chapter has a section on women and society. The book also discusses Hester as a heroine and what makes her a heroine.
Bercovitch, Sacvan. The Office of The Scarlet Letter. Johns Hopkins University Press: Baltimore, 1991.
This book is an in-depth analysis and interpretation of The Scarlet Letter. While the book tends to focus on ideology, interpretation, and criticism, the author does offer some insight into Hester and her individualism. A contributing book to the subject, but not something I will use much of for my paper.
Brackett, Virginia. Classic Love and Romance Literature: An Encyclopedia of Works, Characters, Authors, and Themes. ABC-CLIO, Inc.: Santa Barbara, CA, 1999.
This encyclopedia contains a number of topics including people, places, names, and things dealing with the Romantic time period. The amount of information, however, for each one is limited; perhaps because there is only one volume. Topics related to this paper found in the encyclopedia include Byronic Hero, Jane Eyre, Rhett Butler, Don Juan, Bronte, Heathcliff, and Gothic tradition.
McFarland Pennell, Melissa. Student Companion to Nathaniel Hawthorne. Greenwood Press: Westport, CT, 1999.
McFaland's book explains on an elementary level the life of Nathaniel Hawthorne and his works. Her chapter on The Scarlet Letter discusses the Custom-House, setting, plot, structure, characters, themes, symbols, historical context, and feminist criticism. The most important information for my paper will be the section on characters and on feminist criticism. She talks a lot about Hester and about Hester as a heroine. She also discusses the book in light of feminist criticism, which is key because I would like to look at the idea of Hester as a Byronic Hero in terms of various criticisms and interpretations.
1. Choose a research topic of interest to you. Find a related website and find the following pieces of information: name of author, editor, or sponsoring organization; title of article; title of journal or site that has published the article; version or issue number; date of publication or access date.
2. Choose a research topic of interest to you. Find a related online blog.
3. Choose a research topic of interest to you and set up a related RSS feed.
4. Choose a research topic of interest to you. Find a related government site.
5. Choose a research topic of interest to you. Online, find a related photo, video, and table.
6. With your writing group sharing a couple of computers, amass several sources of an essay and write up an annotated bibliography.
7. Using Antonio's essay idea on helmet hits in the NFL, draw up two statements of purpose that differ from each other in at least three of the six concerns (voice, audience, message, tone, attitude, or reception).
---