47

Short Fiction Anthology

Dr. Karen Palmer
Welcome to the Short Fiction Anthology! Here you will find short biographies of each author and either the full text of the author's short story or a link to the most stable online version (for newer works not in the public domain). Short stories are presented here in alphabetical order by the author's last name. You may use the links below to bring you directly to each author.
Kate Chopin (1851-1904)
Katherine O'Flaherty was born in 1850 in St. Louis, Missouri, to an affluent family. She was formally educated in a Catholic school for girls. At age twenty, she married Oscar Chopin and moved with him to New Orleans. In 1879, the couple relocated to Cloutierville, an area where many members of the Creole community lived. The Chopins lived, worked, and raised their six children together until Oscar died unexpectedly in 1882, leaving his wife in serious debt. Chopin worked and sold the family business to pay off the debt, eventually moving back to St. Louis to be near her mother, who died soon after Chopin returned.
After experiencing these losses, Chopin turned to reading and writing to deal with her grief. Her experiences in New Orleans and Cloutierville provided rich writing material, and during the 1890s, she enjoyed success as a writer, publishing a number of stories in the local colour tradition. By 1899, her style had evolved, and her important work The Awakening, published that year, shocked the Victorian audience of the time in its frank depiction of a woman's sexuality. Unprepared for the negative critical reception that ensued, Chopin retreated from the publishing world. She died unexpectedly a few years later in 1904 from a brain hemorrhage.
In her lifetime, Chopin was known primarily as a regional writer who produced a number of important short stories, many of which were collected in Bayou Folk in 1894. Her groundbreaking novel The Awakening (1899) was ahead of its time in the examination of the rigid cultural and legal boundaries placed on women, which limited or prevented them from living authentic, fully self-directed lives.
Listen to a podcast on Kate Chopin.
Chopin's "The Story of an Hour" was published in Vogue magazine on December 6, 1894. Learn more about "The Story of an Hour," other Kate Chopin stories, Chopin's two novels, her themes, and her life on this website.
"The Story of an Hour"
Knowing that Mrs. Mallard was afflicted with a heart trouble, great care was taken to break to her as gently as possible the news of her husband's death.
It was her sister Josephine who told her, in broken sentences; veiled hints that revealed in half concealing. Her husband's friend Richards was there, too, near her. It was he who had been in the newspaper office when intelligence of the railroad disaster was received, with Brently Mallard's name leading the list of "killed." He had only taken the time to assure himself of its truth by a second telegram, and had hastened to forestall any less careful, less tender friend in bearing the sad message.
She did not hear the story as many women have heard the same, with a paralyzed inability to accept its significance. She wept at once, with sudden, wild abandonment, in her sister's arms. When the storm of grief had spent itself she went away to her room alone. She would have no one follow her.
There stood, facing the open window, a comfortable, roomy armchair. Into this she sank, pressed down by a physical exhaustion that haunted her body and seemed to reach into her soul.
She could see in the open square before her house the tops of trees that were all aquiver with the new spring life. The delicious breath of rain was in the air. In the street below a peddler was crying his wares. The notes of a distant song which some one was singing reached her faintly, and countless sparrows were twittering in the eaves.
There were patches of blue sky showing here and there through the clouds that had met and piled one above the other in the west facing her window.
She sat with her head thrown back upon the cushion of the chair, quite motionless, except when a sob came up into her throat and shook her, as a child who has cried itself to sleep continues to sob in its dreams.
She was young, with a fair, calm face, whose lines bespoke repression and even a certain strength. But now there was a dull stare in her eyes, whose gaze was fixed away off yonder on one of those patches of blue sky. It was not a glance of reflection, but rather indicated a suspension of intelligent thought.
There was something coming to her and she was waiting for it, fearfully. What was it? She did not know; it was too subtle and elusive to name. But she felt it, creeping out of the sky, reaching toward her through the sounds, the scents, the color that filled the air.
Now her bosom rose and fell tumultuously. She was beginning to recognize this thing that was approaching to possess her, and she was striving to beat it back with her will—as powerless as her two white slender hands would have been.
When she abandoned herself a little whispered word escaped her slightly parted lips. She said it over and over under her breath: "free, free, free!" The vacant stare and the look of terror that had followed it went from her eyes. They stayed keen and bright. Her pulses beat fast, and the coursing blood warmed and relaxed every inch of her body.
She did not stop to ask if it were or were not a monstrous joy that held her. A clear and exalted perception enabled her to dismiss the suggestion as trivial.
She knew that she would weep again when she saw the kind, tender hands folded in death; the face that had never looked save with love upon her, fixed and gray and dead. But she saw beyond that bitter moment a long procession of years to come that would belong to her absolutely. And she opened and spread her arms out to them in welcome.
There would be no one to live for her during those coming years; she would live for herself. There would be no powerful will bending hers in that blind persistence with which men and women believe they have a right to impose a private will upon a fellow- creature. A kind intention or a cruel intention made the act seem no less a crime as she looked upon it in that brief moment of illumination.
And yet she had loved him—sometimes. Often she had not. What did it matter! What could love, the unsolved mystery, count for in face of this possession of self-assertion which she suddenly recognized as the strongest impulse of her being!
"Free! Body and soul free!" she kept whispering.
Josephine was kneeling before the closed door with her lips to the keyhole, imploring for admission. "Louise, open the door! I beg; open the door—you will make yourself ill. What are you doing, Louise? For heaven's sake open the door."
"Go away. I am not making myself ill." No; she was drinking in a very elixir of life through that open window.
Her fancy was running riot along those days ahead of her. Spring days, and summer days, and all sorts of days that would be her own. She breathed a quick prayer that life might be long. It was only yesterday she had thought with a shudder that life might be long.
She arose at length and opened the door to her sister's importunities. There was a feverish triumph in her eyes, and she carried herself unwittingly like a goddess of Victory. She clasped her sister's waist, and together they descended the stairs. Richards stood waiting for them at the bottom.
Some one was opening the front door with a latchkey. It was Brently Mallard who entered, a little travel-stained, composedly carrying his grip-sack and umbrella. He had been far from the scene of accident, and did not even know there had been one. He stood amazed at Josephine's piercing cry; at Richards' quick motion to screen him from the view of his wife.
But Richards was too late.
When the doctors came they said she had died of heart disease—of joy that kills.
Questions for Consideration
1. How is Mrs. Mallard's character developed? Do you see examples of exposition, where the narrator simply tells us information about the protagonist? In addition, does Chopin portray particular emotional responses, thoughts, and actions to reveal Mrs. Mallard's character? If so, how so? How does she employ point of view in this story?
2. What is your impression of Brently Mallard? What elements of the story generate this impression?
3. How is setting (both the historical period and the physical atmosphere of the story) used to contribute to the story's meaning?
4. What is Mrs. Mallard's social class? What clues lead you to this conclusion?
5. What is the story's central conflict? Does Mrs. Mallard change, as we might expect a protagonist to do?
6. What are the important themes of this story?
You may enter your responses to the discussion questions in the following form.
Watch a film version of "The Story of an Hour":
Learn more about the status of women in Chopin's time.
Sandra Cisneros
Sandra Cisneros (born December 20, 1954) is a Chicana writer. She is best known for her first novel The House on Mango Street (1983) and her subsequent short story collection Woman Hollering Creek and Other Stories (1991). Her work experiments with literary forms and investigates emerging subject positions. She is the recipient of numerous awards, including a National Endowment for the Arts Fellowship, was awarded one of 25 new Ford Foundation Art of Change fellowships in 2017, and is regarded as a key figure in Chicana literature.
Cisneros's early life provided many experiences she later drew on as a writer: she grew up as the only daughter in a family of six brothers, which often made her feel isolated, and they constantly migration between Mexico and the United States. Cisneros's work deals with the formation of Chicana identity, exploring the challenges of being caught between Mexican and Anglo-American cultures, facing the misogynist attitudes present in both these cultures, and experiencing poverty.
Cisneros has held a variety of professional positions, working as a teacher, a counselor, a college recruiter, a poet-in-the-schools, and an arts administrator, and has maintained a strong commitment to community and literary causes. Cisneros currently resides in Mexico.
An interview with Cisneros:
"Puro Amor" was published in the Washington Post in 2015.
"
Puro Amor
" published in the
Washington Post
. Scroll down to find the story. (It's the second one on the page.)
What does the story say about love?
What are the plot and the setting of the short story "Puro Amor"? How dothe plot and the setting relate to the theme of the story?
Describe the characters in "Puro Amor." What details from the story help the reader to formulate an idea of what kind of people they are?
You may enter your responses to the discussion questions in the following form.
Cisneros discusses "Puro Amor":
William Faulkner
William Faulkner was born in Mississippi and raised on tales of his legendary great-great grandfather—the "Old Colonel,"who led a group of raiders in the civil war, built his own railroad, served in the state legislature, and was murdered by a political rival—and prominent great-grandfather, the "Young Colonel," who was an assistant United States attorney and banker.
Dropping out of high school, Faulkner left Mississippi to pursue his interests in drawing and poetry. During World War I, Faulkner pretended to be English and enlisted in the Royal Air Force, although he never saw combat. He picked up his poetic career after the war, ultimately publishing his first book in 1924, a collection of poetry called The Marble Faun. Turning his attention to fiction writing, Faulkner then wrote two timely novels. His first novel, Soldier's Pay (1926), explores the states of mind of those who did and did not fight in World War I. His second
novel, Mosquitos (1927), exposes the triviality of the New Orleans art community
of which Faulkner was briefly a part. However, it is with his third novel, Sartoris
(1929), that Faulkner made what he called his "great discovery": the fictional possibilities
contained within his home state of Mississippi.
Returning to Oxford, MI, with his new wife, Faulkner moved into an antebellum mansion and began turning the tales he heard growing up about his hometown and surrounding area into one
of the greatest inventions in American literary history: Yoknapatawpha County. Faulkner eventually wrote thirteen novels set in Yoknapatawpha County. Beginning with his fourth novel, The Sound and the Fury (1929), Faulkner began to incorporate modernist literary techniques such as stream-of-consciousness narration and non-linear plotting into his already lofty style. Other novels include As I Lay Dying (1930) and Absalom, Absalom! (1936).
While stylistically modernist, Faulkner's collective epic of Yoknapatawpha County ultimately explores not so much the future of narrative as the human condition itself as lensed through generation-spanning histories of great and low families. One of Faulkner's Yoknapatawpha stories is included here: "A Rose for Emily," one of his many tales about the decline of formerly-great Southern families.
Here's a film of the story:
What does the story say about love?
Why is the discovery of the single grey hair at the end of "A Rose for
Emily" significant?
Faulkner received the Nobel Prize for Literature in 1950. In his award
speech, he lamented that many of America's young authors had forgotten
"the problems of the human heart in conflict with itself which alone can
make good writing." Discuss how "A Rose for Emily"
shows the human heart in conflict with itself.
You may enter your responses to the discussion questions in the following form.
Video of "A Rose for Emily":
Charlotte Perkins Gilman
As she writes in her autobiography, Charlotte Perkins Gilman had one overriding goal in her life: "the improvement of the human race." The niece of both the abolitionist Harriet Beecher Stowe and the suffragist Isabella Beecher Hooker, Gilman was one of the most important feminist writers, editors, and activists of the late nineteenth and early twentieth centuries. She led an unconventional life that directly inspired her poetry, fiction, and nonfiction alike. At the age of thirty-four, she divorced a husband who sought to "domesticate" her, leaving both him and her daughter to pursue an independent career authoring works of poetry, fiction, and social criticism; editing and publishing her own feminist magazine, Forerunner; and lecturing for the American Woman Suffrage Association and other organizations on the need for social reform to ensure equality between men and women. In the 1890s, Gil- man published three works that solidified her reputation as both a major American writer and a groundbreaking feminist theorist: a well-received collection of feminist poems, In This Our World (1893); the groundbreaking work of social theory, Women and Economics: A Study of the Economic Relation between Men and Women as a Factor in Social Evolution (1898), in which she criticized the economic dependency of women upon men; and the shocking short story, "The Yellow Wall-Paper" (1892). Gilman remarried in 1900 and over the course of the first three decades of the twentieth century continued to edit, lecture, and publish works that advocated for the progressive reform of society. In her utopian novel Herland (1915), for example, she imagines a peaceful and ecologically sustainable society comprised solely of women who use technology and not men to reproduce.
While presented in the guise of a gothic tale of terror, "The Yellow Wall-Paper" is a fine example of political realism. Gilman based the story on her own life. After giving birth to her daughter, Gilman fell into a state of depression and was sent to a clinic for treatment. Her doctor, a world-famous neurologist, advised her to quit all creative and intellectual activity and instead dedicate herself wholly to a private domestic routine. However, this "rest-cure" only further deepened Gilman's depression and so she sought—and found—a cure for herself in her true callings: the literary and political work to which she dedicated the rest of her life.
"The Yellow Wallpaper"
It is very seldom that mere ordinary people like John and myself secure ancestral halls for the summer.
A colonial mansion, a hereditary estate, I would say a haunted house, and reach the height of romantic felicity—but that would be asking too much of fate!
Still I will proudly declare that there is something queer about it.
Else, why should it be let so cheaply? And why have stood so long untenanted?
John laughs at me, of course, but one expects that in marriage.
John is practical in the extreme. He has no patience with faith, an intense horror of superstition, and he scoffs openly at any talk of things not to be felt and seen and put down in figures.
John is a physician, and perhaps—(I would not say it to a living soul, of course, but this is dead paper and a great relief to my mind)—perhaps that is one reason I do not get well faster.
You see, he does not believe I am sick!
And what can one do?
If a physician of high standing, and one's own husband, assures friends and relatives that there is really nothing the matter with one but temporary nervous depression—a slight hysterical tendency—what is one to do?
My brother is also a physician, and also of high standing, and he says the same thing.
So I take phosphates or phosphites—whichever it is, and tonics, and journeys, and air, and exercise, and am absolutely forbidden to "work" until I am well again.
Personally, I disagree with their ideas.
Personally, I believe that congenial work, with excitement and change, would do me good.
But what is one to do?
I did write for a while in spite of them; but it does exhaust me a good deal—having to be so sly about it, or else meet with heavy opposition.
I sometimes fancy that in my condition if I had less opposition and more society and stimulus—but John says the very worst thing I can do is to think about my condition, and I confess it always makes me feel bad.
So I will let it alone and talk about the house.
The most beautiful place! It is quite alone, standing well back from the road, quite three miles from the village. It makes me think of English places that you read about, for there are hedges and walls and gates that lock, and lots of separate little houses for the gardeners and people.
There is a delicious garden! I never saw such a garden—large and shady, full of box-bordered paths, and lined with long grape-covered arbors with seats under them.
There were greenhouses, too, but they are all broken now.
There was some legal trouble, I believe, something about the heirs and co-heirs; anyhow, the place has been empty for years.
That spoils my ghostliness, I am afraid; but I don't care—there is something strange about the house—I can feel it.
I even said so to John one moonlight evening, but he said what I felt was a draught, and shut the window.
I get unreasonably angry with John sometimes. I'm sure I never used to be so sensitive. I think it is due to this nervous condition.
But John says if I feel so I shall neglect proper self-control; so I take pains to control myself,—before him, at least,—and that makes me very tired.
I don't like our room a bit. I wanted one downstairs that opened on the piazza and had roses all over the window, and such pretty old-fashioned chintz hangings! but John would not hear of it.
He said there was only one window and not room for two beds, and no near room for him if he took another.
He is very careful and loving, and hardly lets me stir without special direction.
I have a schedule prescription for each hour in the day; he takes all care from me, and so I feel basely ungrateful not to value it more.
He said we came here solely on my account, that I was to have perfect rest and all the air I could get. "Your exercise depends on your strength, my dear," said he, "and your food somewhat on your appetite; but air you can absorb all the time." So we took the nursery, at the top of the house.
It is a big, airy room, the whole floor nearly, with windows that look all ways, and air and sunshine galore. It was nursery first and then playground and gymnasium, I should judge; for the windows are barred for little children, and there are rings and things in the walls.
The paint and paper look as if a boys' school had used it. It is stripped off—the paper—in great patches all around the head of my bed, about as far as I can reach, and in a great place on the other side of the room low down. I never saw a worse paper in my life.
One of those sprawling flamboyant patterns committing every artistic sin.
It is dull enough to confuse the eye in following, pronounced enough to constantly irritate, and provoke study, and when you follow the lame, uncertain curves for a little distance they suddenly commit suicide—plunge off at outrageous angles, destroy themselves in unheard-of contradictions.
The color is repellant, almost revolting; a smouldering, unclean yellow, strangely faded by the slow-turning sunlight.
It is a dull yet lurid orange in some places, a sickly sulphur tint in others.
No wonder the children hated it! I should hate it myself if I had to live in this room long.
There comes John, and I must put this away,—he hates to have me write a word.
We have been here two weeks, and I haven't felt like writing before, since that first day.
I am sitting by the window now, up in this atrocious nursery, and there is nothing to hinder my writing as much as I please, save lack of strength.
John is away all day, and even some nights when his cases are serious.
I am glad my case is not serious!
But these nervous troubles are dreadfully depressing.
John does not know how much I really suffer. He knows there is no reason to suffer, and that satisfies him.
Of course it is only nervousness. It does weigh on me so not to do my duty in any way!
I meant to be such a help to John, such a real rest and comfort, and here I am a comparative burden already!
Nobody would believe what an effort it is to do what little I am able—to dress and entertain, and order things.
It is fortunate Mary is so good with the baby. Such a dear baby!
And yet I cannot be with him, it makes me so nervous.
I suppose John never was nervous in his life. He laughs at me so about this wallpaper!
At first he meant to repaper the room, but afterwards he said that I was letting it get the better of me, and that nothing was worse for a nervous patient than to give way to such fancies.
He said that after the wallpaper was changed it would be the heavy bedstead, and then the barred windows, and then that gate at the head of the stairs, and so on.
"You know the place is doing you good," he said, "and really, dear, I don't care to renovate the house just for a three months' rental."
"Then do let us go downstairs," I said, "there are such pretty rooms there."
Then he took me in his arms and called me a blessed little goose, and said he would go down cellar if I wished, and have it whitewashed into the bargain.
But he is right enough about the beds and windows and things.
It is as airy and comfortable a room as any one need wish, and, of course, I would not be so silly as to make him uncomfortable just for a whim.
I'm really getting quite fond of the big room, all but that horrid paper.
Out of one window I can see the garden, those mysterious deep-shaded arbors, the riotous old-fashioned flowers, and bushes and gnarly trees.
Out of another I get a lovely view of the bay and a little private wharf belonging to the estate. There is a beautiful shaded lane that runs down there from the house. I always fancy I see people walking in these numerous paths and arbors, but John has cautioned me not to give way to fancy in the least. He says that with my imaginative power and habit of story-making a nervous weakness like mine is sure to lead to all manner of excited fancies, and that I ought to use my will and good sense to check the tendency. So I try.
I think sometimes that if I were only well enough to write a little it would relieve the press of ideas and rest me.
But I find I get pretty tired when I try.
It is so discouraging not to have any advice and companionship about my work. When I get really well John says we will ask Cousin Henry and Julia down for a long visit; but he says he would as soon put fire-works in my pillow-case as to let me have those stimulating people about now.
I wish I could get well faster.
But I must not think about that. This paper looks to me as if it knew what a vicious influence it had!
There is a recurrent spot where the pattern lolls like a broken neck and two bulbous eyes stare at you upside-down.
I get positively angry with the impertinence of it and the everlastingness. Up and down and sideways they crawl, and those absurd, unblinking eyes are everywhere. There is one place where two breadths didn't match, and the eyes go all up and down the line, one a little higher than the other.
I never saw so much expression in an inanimate thing before, and we all know how much expression they have! I used to lie awake as a child and get more entertainment and terror out of blank walls and plain furniture than most children could find in a toy-store.
I remember what a kindly wink the knobs of our big old bureau used to have, and there was one chair that always seemed like a strong friend.
I used to feel that if any of the other things looked too fierce I could always hop into that chair and be safe.
The furniture in this room is no worse than inharmonious, however, for we had to bring it all from downstairs. I suppose when this was used as a playroom they had to take the nursery things out, and no wonder! I never saw such ravages as the children have made here.
The wallpaper, as I said before, is torn off in spots, and it sticketh closer than a brother—they must have had perseverance as well as hatred.
Then the floor is scratched and gouged and splintered, the plaster itself is dug out here and there, and this great heavy bed, which is all we found in the room, looks as if it had been through the wars.
But I don't mind it a bit—only the paper.
There comes John's sister. Such a dear girl as she is, and so careful of me! I must not let her find me writing.
She is a perfect, and enthusiastic housekeeper, and hopes for no better profession. I verily believe she thinks it is the writing which made me sick!
But I can write when she is out, and see her a long way off from these windows.
There is one that commands the road, a lovely, shaded, winding road, and one that just looks off over the country. A lovely country, too, full of great elms and velvet meadows.
This wallpaper has a kind of sub-pattern in a different shade, a particularly irritating one, for you can only see it in certain lights, and not clearly then.
But in the places where it isn't faded, and where the sun is just so, I can see a strange, provoking, formless sort of figure, that seems to sulk about behind that silly and conspicuous front design.
There's sister on the stairs!
Well, the Fourth of July is over! The people are gone and I am tired out. John thought it might do me good to see a little company, so we just had mother and Nellie and the children down for a week.
Of course I didn't do a thing. Jennie sees to everything now.
But it tired me all the same.
John says if I don't pick up faster he shall send me to Weir Mitchell in the fall.
But I don't want to go there at all. I had a friend who was in his hands once, and she says he is just like John and my brother, only more so!
Besides, it is such an undertaking to go so far.
I don't feel as if it was worth while to turn my hand over for anything, and I'm getting dreadfully fretful and querulous.
I cry at nothing, and cry most of the time.
Of course I don't when John is here, or anybody else, but when I am alone.
And I am alone a good deal just now. John is kept in town very often by serious cases, and Jennie is good and lets me alone when I want her to.
So I walk a little in the garden or down that lovely lane, sit on the porch under the roses, and lie down up here a good deal.
I'm getting really fond of the room in spite of the wallpaper. Perhaps because of the wallpaper.
It dwells in my mind so!
I lie here on this great immovable bed—it is nailed down, I believe—and follow that pattern about by the hour. It is as good as gymnastics, I assure you. I start, we'll say, at the bottom, down in the corner over there where it has not been touched, and I determine for the thousandth time that I will follow that pointless pattern to some sort of a conclusion.
I know a little of the principle of design, and I know this thing was not arranged on any laws of radiation, or alternation, or repetition, or symmetry, or anything else that I ever heard of.
It is repeated, of course, by the breadths, but not otherwise.
Looked at in one way each breadth stands alone, the bloated curves and flourishes—a kind of "debased Romanesque" with delirium tremens—go waddling up and down in isolated columns of fatuity.
But, on the other hand, they connect diagonally, and the sprawling outlines run off in great slanting waves of optic horror, like a lot of wallowing seaweeds in full chase.
The whole thing goes horizontally, too, at least it seems so, and I exhaust myself in trying to distinguish the order of its going in that direction.
They have used a horizontal breadth for a frieze, and that adds wonderfully to the confusion.
There is one end of the room where it is almost intact, and there, when the cross-lights fade and the low sun shines directly upon it, I can almost fancy radiation after all,—the interminable grotesques seem to form around a common centre and rush off in headlong plunges of equal distraction.
It makes me tired to follow it. I will take a nap, I guess.
I don't know why I should write this.
I don't want to.
I don't feel able.
And I know John would think it absurd. But I must say what I feel and think in some way—it is such a relief!
But the effort is getting to be greater than the relief.
Half the time now I am awfully lazy, and lie down ever so much.
John says I musn't lose my strength, and has me take cod-liver oil and lots of tonics and things, to say nothing of ale and wine and rare meat.
Dear John! He loves me very dearly, and hates to have me sick. I tried to have a real earnest reasonable talk with him the other day, and tell him how I wish he would let me go and make a visit to Cousin Henry and Julia.
But he said I wasn't able to go, nor able to stand it after I got there; and I did not make out a very good case for myself, for I was crying before I had finished.
It is getting to be a great effort for me to think straight. Just this nervous weakness, I suppose.
And dear John gathered me up in his arms, and just carried me upstairs and laid me on the bed, and sat by me and read to me till it tired my head.
He said I was his darling and his comfort and all he had, and that I must take care of myself for his sake, and keep well.
He says no one but myself can help me out of it, that I must use my will and self-control and not let any silly fancies run away with me.
There's one comfort, the baby is well and happy, and does not have to occupy this nursery with the horrid wallpaper.
If we had not used it that blessed child would have! What a fortunate escape! Why, I wouldn't have a child of mine, an impressionable little thing, live in such a room for worlds.
I never thought of it before, but it is lucky that John kept me here after all. I can stand it so much easier than a baby, you see.
Of course I never mention it to them any more,—I am too wise,—but I keep watch of it all the same.
There are things in that paper that nobody knows but me, or ever will.
Behind that outside pattern the dim shapes get clearer every day.
It is always the same shape, only very numerous.
And it is like a woman stooping down and creeping about behind that pattern. I don't like it a bit. I wonder—I begin to think—I wish John would take me away from here!
It is so hard to talk with John about my case, because he is so wise, and because he loves me so.
But I tried it last night.
It was moonlight. The moon shines in all around, just as the sun does.
I hate to see it sometimes, it creeps so slowly, and always comes in by one window or another.
John was asleep and I hated to waken him, so I kept still and watched the moonlight on that undulating wallpaper till I felt creepy.
The faint figure behind seemed to shake the pattern, just as if she wanted to get out.
I got up softly and went to feel and see if the paper did move, and when I came back John was awake.
"What is it, little girl?" he said. "Don't go walking about like that—you'll get cold."
I thought it was a good time to talk, so I told him that I really was not gaining here, and that I wished he would take me away.
"Why darling!" said he, "our lease will be up in three weeks, and I can't see how to leave before.
"The repairs are not done at home, and I cannot possibly leave town just now. Of course if you were in any danger I could and would, but you really are better, dear, whether you can see it or not. I am a doctor, dear, and I know. You are gaining flesh and color, your appetite is better. I feel really much easier about you."
"I don't weigh a bit more," said I, "nor as much; and my appetite may be better in the evening, when you are here, but it is worse in the morning when you are away."
"Bless her little heart!" said he with a big hug; "she shall be as sick as she pleases! But now let's improve the shining hours by going to sleep, and talk about it in the morning!"
"And you won't go away?" I asked gloomily.
"Why, how can I, dear? It is only three weeks more and then we will take a nice little trip of a few days while Jennie is getting the house ready. Really, dear, you are better!"
"Better in body perhaps"—I began, and stopped short, for he sat up straight and looked at me with such a stern, reproachful look that I could not say another word.
"My darling," said he, "I beg of you, for my sake and for our child's sake, as well as for your own, that you will never for one instant let that idea enter your mind! There is nothing so dangerous, so fascinating, to a temperament like yours. It is a false and foolish fancy. Can you not trust me as a physician when I tell you so?"
So of course I said no more on that score, and we went to sleep before long. He thought I was asleep first, but I wasn't,—I lay there for hours trying to decide whether that front pattern and the back pattern really did move together or separately.
On a pattern like this, by daylight, there is a lack of sequence, a defiance of law, that is a constant irritant to a normal mind.
The color is hideous enough, and unreliable enough, and infuriating enough, but the pattern is torturing.
You think you have mastered it, but just as you get well under way in following, it turns a back somersault and there you are. It slaps you in the face, knocks you down, and tramples upon you. It is like a bad dream.
The outside pattern is a florid arabesque, reminding one of a fungus. If you can imagine a toadstool in joints, an interminable string of toadstools, budding and sprouting in endless convolutions,—why, that is something like it.
That is, sometimes!
There is one marked peculiarity about this paper, a thing nobody seems to notice but myself, and that is that it changes as the light changes.
When the sun shoots in through the east window—I always watch for that first long, straight ray—it changes so quickly that I never can quite believe it.
That is why I watch it always.
By moonlight—the moon shines in all night when there is a moon—I wouldn't know it was the same paper.
At night in any kind of light, in twilight, candlelight, lamplight, and worst of all by moonlight, it becomes bars! The outside pattern I mean, and the woman behind it is as plain as can be.
I didn't realize for a long time what the thing was that showed behind,—that dim sub-pattern,—but now I am quite sure it is a woman.
By daylight she is subdued, quiet. I fancy it is the pattern that keeps her so still. It is so puzzling. It keeps me quiet by the hour.
I lie down ever so much now. John says it is good for me, and to sleep all I can.
Indeed, he started the habit by making me lie down for an hour after each meal.
It is a very bad habit, I am convinced, for, you see, I don't sleep.
And that cultivates deceit, for I don't tell them I'm awake,—oh, no!
The fact is, I am getting a little afraid of John.
He seems very queer sometimes, and even Jennie has an inexplicable look.
It strikes me occasionally, just as a scientific hypothesis, that perhaps it is the paper!
I have watched John when he did not know I was looking, and come into the room suddenly on the most innocent excuses, and I've caught him several times looking at the paper! And Jennie too. I caught Jennie with her hand on it once.
She didn't know I was in the room, and when I asked her in a quiet, a very quiet voice, with the most restrained manner possible, what she was doing with the paper she turned around as if she had been caught stealing, and looked quite angry—asked me why I should frighten her so!
Then she said that the paper stained everything it touched, that she had found yellow smooches on all my clothes and John's, and she wished we would be more careful!
Did not that sound innocent? But I know she was studying that pattern, and I am determined that nobody shall find it out but myself!
Life is very much more exciting now than it used to be. You see I have something more to expect, to look forward to, to watch. I really do eat better, and am more quiet than I was.
John is so pleased to see me improve! He laughed a little the other day, and said I seemed to be flourishing in spite of my wallpaper.
I turned it off with a laugh. I had no intention of telling him it was because of the wallpaper—he would make fun of me. He might even want to take me away.
I don't want to leave now until I have found it out. There is a week more, and I think that will be enough.
I'm feeling ever so much better! I don't sleep much at night, for it is so interesting to watch developments; but I sleep a good deal in the daytime.
In the daytime it is tiresome and perplexing.
There are always new shoots on the fungus, and new shades of yellow all over it. I cannot keep count of them, though I have tried conscientiously.
It is the strangest yellow, that wallpaper! It makes me think of all the yellow things I ever saw—not beautiful ones like buttercups, but old foul, bad yellow things.
But there is something else about that paper—the smell! I noticed it the moment we came into the room, but with so much air and sun it was not bad. Now we have had a week of fog and rain, and whether the windows are open or not, the smell is here.
It creeps all over the house.
I find it hovering in the dining-room, skulking in the parlor, hiding in the hall, lying in wait for me on the stairs.
It gets into my hair.
Even when I go to ride, if I turn my head suddenly and surprise it—there is that smell!
Such a peculiar odor, too! I have spent hours in trying to analyze it, to find what it smelled like.
It is not bad—at first, and very gentle, but quite the subtlest, most enduring odor I ever met.
In this damp weather it is awful. I wake up in the night and find it hanging over me.
It used to disturb me at first. I thought seriously of burning the house—to reach the smell.
But now I am used to it. The only thing I can think of that it is like is the color of the paper! A yellow smell.
There is a very funny mark on this wall, low down, near the mopboard. A streak that runs round the room. It goes behind every piece of furniture, except the bed, a long, straight, even smooch, as if it had been rubbed over and over.
I wonder how it was done and who did it, and what they did it for. Round and round and round—round and round and round—it makes me dizzy!
I really have discovered something at last.
Through watching so much at night, when it changes so, I have finally found out.
The front pattern does move—and no wonder! The woman behind shakes it!
Sometimes I think there are a great many women behind, and sometimes only one, and she crawls around fast, and her crawling shakes it all over.
Then in the very bright spots she keeps still, and in the very shady spots she just takes hold of the bars and shakes them hard.
And she is all the time trying to climb through. But nobody could climb through that pattern—it strangles so; I think that is why it has so many heads.
They get through, and then the pattern strangles them off and turns them upside-down, and makes their eyes white!
If those heads were covered or taken off it would not be half so bad.
I think that woman gets out in the daytime!
And I'll tell you why—privately—I've seen her!
I can see her out of every one of my windows!
It is the same woman, I know, for she is always creeping, and most women do not creep by daylight.
I see her on that long shaded lane, creeping up and down. I see her in those dark grape arbors, creeping all around the garden.
I see her on that long road under the trees, creeping along, and when a carriage comes she hides under the blackberry vines.
I don't blame her a bit. It must be very humiliating to be caught creeping by daylight!
I always lock the door when I creep by daylight. I can't do it at night, for I know John would suspect something at once.
And John is so queer now, that I don't want to irritate him. I wish he would take another room! Besides, I don't want anybody to get that woman out at night but myself.
I often wonder if I could see her out of all the windows at once.
But, turn as fast as I can, I can only see out of one at one time.
And though I always see her she may be able to creep faster than I can turn!
I have watched her sometimes away off in the open country, creeping as fast as a cloud shadow in a high wind.
If only that top pattern could be gotten off from the under one! I mean to try it, little by little.
I have found out another funny thing, but I shan't tell it this time! It does not do to trust people too much.
There are only two more days to get this paper off, and I believe John is beginning to notice. I don't like the look in his eyes.
And I heard him ask Jennie a lot of professional questions about me. She had a very good report to give.
She said I slept a good deal in the daytime.
John knows I don't sleep very well at night, for all I'm so quiet!
He asked me all sorts of questions, too, and pretended to be very loving and kind.
As if I couldn't see through him!
Still, I don't wonder he acts so, sleeping under this paper for three months.
It only interests me, but I feel sure John and Jennie are secretly affected by it.
Hurrah! This is the last day, but it is enough. John is to stay in town over night, and won't be out until this evening.
Jennie wanted to sleep with me—the sly thing! but I told her I should undoubtedly rest better for a night all alone.
That was clever, for really I wasn't alone a bit! As soon as it was moonlight, and that poor thing began to crawl and shake the pattern, I got up and ran to help her.
I pulled and she shook, I shook and she pulled, and before morning we had peeled off yards of that paper.
A strip about as high as my head and half around the room.
And then when the sun came and that awful pattern began to laugh at me I declared I would finish it to-day!
We go away to-morrow, and they are moving all my furniture down again to leave things as they were before.
Jennie looked at the wall in amazement, but I told her merrily that I did it out of pure spite at the vicious thing.
She laughed and said she wouldn't mind doing it herself, but I must not get tired.
How she betrayed herself that time!
But I am here, and no person touches this paper but me—not alive!
She tried to get me out of the room—it was too patent! But I said it was so quiet and empty and clean now that I believed I would lie down again and sleep all I could; and not to wake me even for dinner—I would call when I woke.
So now she is gone, and the servants are gone, and the things are gone, and there is nothing left but that great bedstead nailed down, with the canvas mattress we found on it.
We shall sleep downstairs to-night, and take the boat home to-morrow.
I quite enjoy the room, now it is bare again.
How those children did tear about here!
This bedstead is fairly gnawed!
But I must get to work.
I have locked the door and thrown the key down into the front path.
I don't want to go out, and I don't want to have anybody come in, till John comes.
I want to astonish him.
I've got a rope up here that even Jennie did not find. If that woman does get out, and tries to get away, I can tie her!
But I forgot I could not reach far without anything to stand on!
This bed will not move!
I tried to lift and push it until I was lame, and then I got so angry I bit off a little piece at one corner—but it hurt my teeth.
Then I peeled off all the paper I could reach standing on the floor. It sticks horribly and the pattern just enjoys it! All those strangled heads and bulbous eyes and waddling fungus growths just shriek with derision!
I am getting angry enough to do something desperate. To jump out of the window would be admirable exercise, but the bars are too strong even to try.
Besides I wouldn't do it. Of course not. I know well enough that a step like that is improper and might be misconstrued.
I don't like to look out of the windows even—there are so many of those creeping women, and they creep so fast.
I wonder if they all come out of that wallpaper as I did?
But I am securely fastened now by my well-hidden rope—you don't get me out in the road there!
I suppose I shall have to get back behind the pattern when it comes night, and that is hard!
It is so pleasant to be out in this great room and creep around as I please!
I don't want to go outside. I won't, even if Jennie asks me to.
For outside you have to creep on the ground, and everything is green instead of yellow.
But here I can creep smoothly on the floor, and my shoulder just fits in that long smooch around the wall, so I cannot lose my way.
Why, there's John at the door!
It is no use, young man, you can't open it!
How he does call and pound!
Now he's crying for an axe.
It would be a shame to break down that beautiful door!
"John dear!" said I in the gentlest voice, "the key is down by the front steps, under a plantain leaf!"
That silenced him for a few moments.
Then he said—very quietly indeed, "Open the door, my darling!"
"I can't," said I. "The key is down by the front door under a plantain leaf!"
And then I said it again, several times, very gently and slowly, and said it so often that he had to go and see, and he got it, of course, and came in. He stopped short by the door.
"What is the matter?" he cried. "For God's sake, what are you doing!"
I kept on creeping just the same, but I looked at him over my shoulder.
"I've got out at last," said I, "in spite of you and Jennie! And I've pulled off most of the paper, so you can't put me back!"
Now why should that man have fainted? But he did, and right across my path by the wall, so that I had to creep over him every time!
As you read "The Yellow Wall-Paper," you will be tempted to diagnose the narrator as suffering from postpartum depression. However, does the source of the narrator's lingering illness reside entirely in her body? Consider other causes for her on-going malaise. Why isn't she getting better?
Consider how the narrator's loving doctor-husband John talks to and controls her. What does John allow—and, more importantly, forbid—his sick wife to think and do?
The narrator of this story is unreliable as she is suffering from mental illness, which leads her to misinterpret the nature of her confinement. For instance, the narrator presumes that she is confined within a child's former playroom. Close-read the details of the story's setting, contrasting the narrator's interpretation of the details of her room—the bars on the windows, for instance—with your own sense of what these things mean.
You may enter your responses to the discussion questions in the following form.
A video version of "The Yellow Wallpaper":
Nathaniel Hawthorne (1804-1864)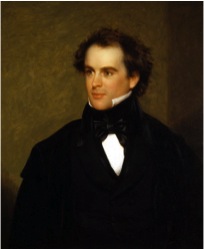 Nathaniel Hawthorne was born on July 4th, 1804 in Salem, Massachusetts to Nathaniel Hathorne and Elizabeth Clarke Manning. He died May 19, 1864, in Plymouth, NH, while on a tour of the White Mountains. After graduating from Bowdoin College in 1825, it is speculated, that he added the "w" to his last name in order to separate himself from his ancestor John Hathorne, who was the judge involved in the Salem Witch Trials.
Hawthorne's writing belongs in the Romanticism period and, more specifically, Dark Romanticism. This is a literary subgenre of Romanticism. It is centered on writers like Poe, Hawthorne and Melville. Typical themes in Dark Romanticism are human proneness to sin and self-destruction, human fallibility or error, and difficulties with social reform. These writings may adapt images of evil forms like devils, Satan, ghosts, Vampires, and werewolves.
Much of Hawthorne's work is inspired by Puritan New England. He writes historical fiction with common themes of sin, guilt and retribution. Early in his career, Hawthorne worked as the editor for the American Magazine of Useful and Entertaining Knowledge. During this time he sent short stories, including "The Minister's Black Veil" and "Young Goodman Brown," to various magazines and annuals, although they did not draw much attention. Hawthorne did not become locally known until he published his collection of short stories into one volume, known as Twice Told Tales.
About Hawthorne:
"Young Goodman Brown" was written by Hawthorne in 1835. This short story takes place in 17th century Puritan England during the Salem witch trials. It looks at the idea that humanity lives in a state of moral corruption.
YOUNG GOODMAN BROWN
by Nathaniel Hawthorne
Young Goodman Brown came forth at sunset into the street at Salem village; but put his head back, after crossing the threshold, to exchange a parting kiss with his young wife. And Faith, as the wife was aptly named, thrust her own pretty head into the street, letting the wind play with the pink ribbons of her cap while she called to Goodman Brown.
"Dearest heart," whispered she, softly and rather sadly, when her lips were close to his ear, "prithee put off your journey until sunrise and sleep in your own bed to-night. A lone woman is troubled with such dreams and such thoughts that she's afeard of herself sometimes. Pray tarry with me this night, dear husband, of all nights in the year."
"My love and my Faith," replied young Goodman Brown, "of all nights in the year, this one night must I tarry away from thee. My journey, as thou callest it, forth and back again, must needs be done 'twixt now and sunrise. What, my sweet, pretty wife, dost thou doubt me already, and we but three months married?"
"Then God bless you!" said Faith, with the pink ribbons; "and may you find all well when you come back."
"Amen!" cried Goodman Brown. "Say thy prayers, dear Faith, and go to bed at dusk, and no harm will come to thee."
So they parted; and the young man pursued his way until, being about to turn the corner by the meeting-house, he looked back and saw the head of Faith still peeping after him with a melancholy air, in spite of her pink ribbons.
"Poor little Faith!" thought he, for his heart smote him. "What a wretch am I to leave her on such an errand! She talks of dreams, too. Methought as she spoke there was trouble in her face, as if a dream had warned her what work is to be done tonight. But no, no; 't would kill her to think it. Well, she's a blessed angel on earth; and after this one night I'll cling to her skirts and follow her to heaven."
With this excellent resolve for the future, Goodman Brown felt himself justified in making more haste on his present evil purpose. He had taken a dreary road, darkened by all the gloomiest trees of the forest, which barely stood aside to let the narrow path creep through, and closed immediately behind. It was all as lonely as could be; and there is this peculiarity in such a solitude, that the traveller knows not who may be concealed by the innumerable trunks and the thick boughs overhead; so that with lonely footsteps he may yet be passing through an unseen multitude.
"There may be a devilish Indian behind every tree," said Goodman Brown to himself; and he glanced fearfully behind him as he added, "What if the devil himself should be at my very elbow!"
His head being turned back, he passed a crook of the road, and, looking forward again, beheld the figure of a man, in grave and decent attire, seated at the foot of an old tree. He arose at Goodman Brown's approach and walked onward side by side with him.
"You are late, Goodman Brown," said he. "The clock of the Old South was striking as I came through Boston, and that is full fifteen minutes ago."
"Faith kept me back a while," replied the young man, with a tremor in his voice, caused by the sudden appearance of his companion, though not wholly unexpected.
It was now deep dusk in the forest, and deepest in that part of it where these two were journeying. As nearly as could be discerned, the second traveller was about fifty years old, apparently in the same rank of life as Goodman Brown, and bearing a considerable resemblance to him, though perhaps more in expression than features. Still they might have been taken for father and son. And yet, though the elder person was as simply clad as the younger, and as simple in manner too, he had an indescribable air of one who knew the world, and who would not have felt abashed at the governor's dinner table or in King William's court, were it possible that his affairs should call him thither. But the only thing about him that could be fixed upon as remarkable was his staff, which bore the likeness of a great black snake, so curiously wrought that it might almost be seen to twist and wriggle itself like a living serpent. This, of course, must have been an ocular deception, assisted by the uncertain light.
"Come, Goodman Brown," cried his fellow-traveller, "this is a dull pace for the beginning of a journey. Take my staff, if you are so soon weary."
"Friend," said the other, exchanging his slow pace for a full stop, "having kept covenant by meeting thee here, it is my purpose now to return whence I came. I have scruples touching the matter thou wot'st of."
"Sayest thou so?" replied he of the serpent, smiling apart. "Let us walk on, nevertheless, reasoning as we go; and if I convince thee not thou shalt turn back. We are but a little way in the forest yet."
"Too far! too far!" exclaimed the goodman, unconsciously resuming his walk. "My father never went into the woods on such an errand, nor his father before him. We have been a race of honest men and good Christians since the days of the martyrs; and shall I be the first of the name of Brown that ever took this path and kept—"
"Such company, thou wouldst say," observed the elder person, interpreting his pause. "Well said, Goodman Brown! I have been as well acquainted with your family as with ever a one among the Puritans; and that's no trifle to say. I helped your grandfather, the constable, when he lashed the Quaker woman so smartly through the streets of Salem; and it was I that brought your father a pitch-pine knot, kindled at my own hearth, to set fire to an Indian village, in King Philip's war. They were my good friends, both; and many a pleasant walk have we had along this path, and returned merrily after midnight. I would fain be friends with you for their sake."
"If it be as thou sayest," replied Goodman Brown, "I marvel they never spoke of these matters; or, verily, I marvel not, seeing that the least rumor of the sort would have driven them from New England. We are a people of prayer, and good works to boot, and abide no such wickedness."
"Wickedness or not," said the traveller with the twisted staff, "I have a very general acquaintance here in New England. The deacons of many a church have drunk the communion wine with me; the selectmen of divers towns make me their chairman; and a majority of the Great and General Court are firm supporters of my interest. The governor and I, too—But these are state secrets."
"Can this be so?" cried Goodman Brown, with a stare of amazement at his undisturbed companion. "Howbeit, I have nothing to do with the governor and council; they have their own ways, and are no rule for a simple husbandman like me. But, were I to go on with thee, how should I meet the eye of that good old man, our minister, at Salem village? Oh, his voice would make me tremble both Sabbath day and lecture day."
Thus far the elder traveller had listened with due gravity; but now burst into a fit of irrepressible mirth, shaking himself so violently that his snake-like staff actually seemed to wriggle in sympathy.
"Ha! ha! ha!" shouted he again and again; then composing himself, "Well, go on, Goodman Brown, go on; but, prithee, don't kill me with laughing."
"Well, then, to end the matter at once," said Goodman Brown, considerably nettled, "there is my wife, Faith. It would break her dear little heart; and I'd rather break my own."
"Nay, if that be the case," answered the other, "e'en go thy ways, Goodman Brown. I would not for twenty old women like the one hobbling before us that Faith should come to any harm."
As he spoke he pointed his staff at a female figure on the path, in whom Goodman Brown recognized a very pious and exemplary dame, who had taught him his catechism in youth, and was still his moral and spiritual adviser, jointly with the minister and Deacon Gookin.
"A marvel, truly, that Goody Cloyse should be so far in the wilderness at nightfall," said he. "But with your leave, friend, I shall take a cut through the woods until we have left this Christian woman behind. Being a stranger to you, she might ask whom I was consorting with and whither I was going."
"Be it so," said his fellow-traveller. "Betake you to the woods, and let me keep the path."
Accordingly the young man turned aside, but took care to watch his companion, who advanced softly along the road until he had come within a staff's length of the old dame. She, meanwhile, was making the best of her way, with singular speed for so aged a woman, and mumbling some indistinct words—a prayer, doubtless—as she went. The traveller put forth his staff and touched her withered neck with what seemed the serpent's tail.
"The devil!" screamed the pious old lady.
"Then Goody Cloyse knows her old friend?" observed the traveller, confronting her and leaning on his writhing stick.
"Ah, forsooth, and is it your worship indeed?" cried the good dame. "Yea, truly is it, and in the very image of my old gossip, Goodman Brown, the grandfather of the silly fellow that now is. But—would your worship believe it?—my broomstick hath strangely disappeared, stolen, as I suspect, by that unhanged witch, Goody Cory, and that, too, when I was all anointed with the juice of smallage, and cinquefoil, and wolf's bane."
"Mingled with fine wheat and the fat of a new-born babe," said the shape of old Goodman Brown.
"Ah, your worship knows the recipe," cried the old lady, cackling aloud. "So, as I was saying, being all ready for the meeting, and no horse to ride on, I made up my mind to foot it; for they tell me there is a nice young man to be taken into communion to-night. But now your good worship will lend me your arm, and we shall be there in a twinkling."
"That can hardly be," answered her friend. "I may not spare you my arm, Goody Cloyse; but here is my staff, if you will."
So saying, he threw it down at her feet, where, perhaps, it assumed life, being one of the rods which its owner had formerly lent to the Egyptian magi. Of this fact, however, Goodman Brown could not take cognizance. He had cast up his eyes in astonishment, and, looking down again, beheld neither Goody Cloyse nor the serpentine staff, but his fellow-traveller alone, who waited for him as calmly as if nothing had happened.
"That old woman taught me my catechism," said the young man; and there was a world of meaning in this simple comment.
They continued to walk onward, while the elder traveller exhorted his companion to make good speed and persevere in the path, discoursing so aptly that his arguments seemed rather to spring up in the bosom of his auditor than to be suggested by himself. As they went, he plucked a branch of maple to serve for a walking stick, and began to strip it of the twigs and little boughs, which were wet with evening dew. The moment his fingers touched them they became strangely withered and dried up as with a week's sunshine. Thus the pair proceeded, at a good free pace, until suddenly, in a gloomy hollow of the road, Goodman Brown sat himself down on the stump of a tree and refused to go any farther.
"Friend," said he, stubbornly, "my mind is made up. Not another step will I budge on this errand. What if a wretched old woman do choose to go to the devil when I thought she was going to heaven: is that any reason why I should quit my dear Faith and go after her?"
"You will think better of this by and by," said his acquaintance, composedly. "Sit here and rest yourself a while; and when you feel like moving again, there is my staff to help you along." Without more words, he threw his companion the maple stick, and was as speedily out of sight as if he had vanished into the deepening gloom. The young man sat a few moments by the roadside, applauding himself greatly, and thinking with how clear a conscience he should meet the minister in his morning walk, nor shrink from the eye of good old Deacon Gookin. And what calm sleep would be his that very night, which was to have been spent so wickedly, but so purely and sweetly now, in the arms of Faith! Amidst these pleasant and praiseworthy meditations, Goodman Brown heard the tramp of horses along the road, and deemed it advisable to conceal himself within the verge of the forest, conscious of the guilty purpose that had brought him thither, though now so happily turned from it.
On came the hoof tramps and the voices of the riders, two grave old voices, conversing soberly as they drew near. These mingled sounds appeared to pass along the road, within a few yards of the young man's hiding-place; but, owing doubtless to the depth of the gloom at that particular spot, neither the travellers nor their steeds were visible. Though their figures brushed the small boughs by the wayside, it could not be seen that they intercepted, even for a moment, the faint gleam from the strip of bright sky athwart which they must have passed. Goodman Brown alternately crouched and stood on tiptoe, pulling aside the branches and thrusting forth his head as far as he durst without discerning so much as a shadow. It vexed him the more, because he could have sworn, were such a thing possible, that he recognized the voices of the minister and Deacon Gookin, jogging along quietly, as they were wont to do, when bound to some ordination or ecclesiastical council. While yet within hearing, one of the riders stopped to pluck a switch.
"Of the two, reverend sir," said the voice like the deacon's, "I had rather miss an ordination dinner than to-night's meeting. They tell me that some of our community are to be here from Falmouth and beyond, and others from Connecticut and Rhode Island, besides several of the Indian powwows, who, after their fashion, know almost as much deviltry as the best of us. Moreover, there is a goodly young woman to be taken into communion."
"Mighty well, Deacon Gookin!" replied the solemn old tones of the minister. "Spur up, or we shall be late. Nothing can be done, you know, until I get on the ground."
The hoofs clattered again; and the voices, talking so strangely in the empty air, passed on through the forest, where no church had ever been gathered or solitary Christian prayed. Whither, then, could these holy men be journeying so deep into the heathen wilderness? Young Goodman Brown caught hold of a tree for support, being ready to sink down on the ground, faint and overburdened with the heavy sickness of his heart. He looked up to the sky, doubting whether there really was a heaven above him. Yet there was the blue arch, and the stars brightening in it.
"With heaven above and Faith below, I will yet stand firm against the devil!" cried Goodman Brown.
While he still gazed upward into the deep arch of the firmament and had lifted his hands to pray, a cloud, though no wind was stirring, hurried across the zenith and hid the brightening stars. The blue sky was still visible, except directly overhead, where this black mass of cloud was sweeping swiftly northward. Aloft in the air, as if from the depths of the cloud, came a confused and doubtful sound of voices. Once the listener fancied that he could distinguish the accents of towns-people of his own, men and women, both pious and ungodly, many of whom he had met at the communion table, and had seen others rioting at the tavern. The next moment, so indistinct were the sounds, he doubted whether he had heard aught but the murmur of the old forest, whispering without a wind. Then came a stronger swell of those familiar tones, heard daily in the sunshine at Salem village, but never until now from a cloud of night. There was one voice of a young woman, uttering lamentations, yet with an uncertain sorrow, and entreating for some favor, which, perhaps, it would grieve her to obtain; and all the unseen multitude, both saints and sinners, seemed to encourage her onward.
"Faith!" shouted Goodman Brown, in a voice of agony and desperation; and the echoes of the forest mocked him, crying, "Faith! Faith!" as if bewildered wretches were seeking her all through the wilderness.
The cry of grief, rage, and terror was yet piercing the night, when the unhappy husband held his breath for a response. There was a scream, drowned immediately in a louder murmur of voices, fading into far-off laughter, as the dark cloud swept away, leaving the clear and silent sky above Goodman Brown. But something fluttered lightly down through the air and caught on the branch of a tree. The young man seized it, and beheld a pink ribbon.
"My Faith is gone!" cried he, after one stupefied moment. "There is no good on earth; and sin is but a name. Come, devil; for to thee is this world given."
And, maddened with despair, so that he laughed loud and long, did Goodman Brown grasp his staff and set forth again, at such a rate that he seemed to fly along the forest path rather than to walk or run. The road grew wilder and drearier and more faintly traced, and vanished at length, leaving him in the heart of the dark wilderness, still rushing onward with the instinct that guides mortal man to evil. The whole forest was peopled with frightful sounds—the creaking of the trees, the howling of wild beasts, and the yell of Indians; while sometimes the wind tolled like a distant church bell, and sometimes gave a broad roar around the traveller, as if all Nature were laughing him to scorn. But he was himself the chief horror of the scene, and shrank not from its other horrors.
"Ha! ha! ha!" roared Goodman Brown when the wind laughed at him.
"Let us hear which will laugh loudest. Think not to frighten me with your deviltry. Come witch, come wizard, come Indian powwow, come devil himself, and here comes Goodman Brown. You may as well fear him as he fear you."
In truth, all through the haunted forest there could be nothing more frightful than the figure of Goodman Brown. On he flew among the black pines, brandishing his staff with frenzied gestures, now giving vent to an inspiration of horrid blasphemy, and now shouting forth such laughter as set all the echoes of the forest laughing like demons around him. The fiend in his own shape is less hideous than when he rages in the breast of man. Thus sped the demoniac on his course, until, quivering among the trees, he saw a red light before him, as when the felled trunks and branches of a clearing have been set on fire, and throw up their lurid blaze against the sky, at the hour of midnight. He paused, in a lull of the tempest that had driven him onward, and heard the swell of what seemed a hymn, rolling solemnly from a distance with the weight of many voices. He knew the tune; it was a familiar one in the choir of the village meeting-house. The verse died heavily away, and was lengthened by a chorus, not of human voices, but of all the sounds of the benighted wilderness pealing in awful harmony together. Goodman Brown cried out, and his cry was lost to his own ear by its unison with the cry of the desert.
In the interval of silence he stole forward until the light glared full upon his eyes. At one extremity of an open space, hemmed in by the dark wall of the forest, arose a rock, bearing some rude, natural resemblance either to an alter or a pulpit, and surrounded by four blazing pines, their tops aflame, their stems untouched, like candles at an evening meeting. The mass of foliage that had overgrown the summit of the rock was all on fire, blazing high into the night and fitfully illuminating the whole field. Each pendent twig and leafy festoon was in a blaze. As the red light arose and fell, a numerous congregation alternately shone forth, then disappeared in shadow, and again grew, as it were, out of the darkness, peopling the heart of the solitary woods at once.
"A grave and dark-clad company," quoth Goodman Brown.
In truth they were such. Among them, quivering to and fro between gloom and splendor, appeared faces that would be seen next day at the council board of the province, and others which, Sabbath after Sabbath, looked devoutly heavenward, and benignantly over the crowded pews, from the holiest pulpits in the land. Some affirm that the lady of the governor was there. At least there were high dames well known to her, and wives of honored husbands, and widows, a great multitude, and ancient maidens, all of excellent repute, and fair young girls, who trembled lest their mothers should espy them. Either the sudden gleams of light flashing over the obscure field bedazzled Goodman Brown, or he recognized a score of the church members of Salem village famous for their especial sanctity. Good old Deacon Gookin had arrived, and waited at the skirts of that venerable saint, his revered pastor. But, irreverently consorting with these grave, reputable, and pious people, these elders of the church, these chaste dames and dewy virgins, there were men of dissolute lives and women of spotted fame, wretches given over to all mean and filthy vice, and suspected even of horrid crimes. It was strange to see that the good shrank not from the wicked, nor were the sinners abashed by the saints. Scattered also among their pale-faced enemies were the Indian priests, or powwows, who had often scared their native forest with more hideous incantations than any known to English witchcraft.
"But where is Faith?" thought Goodman Brown; and, as hope came into his heart, he trembled. Another verse of the hymn arose, a slow and mournful strain, such as the pious love, but joined to words which expressed all that our nature can conceive of sin, and darkly hinted at far more. Unfathomable to mere mortals is the lore of fiends. Verse after verse was sung; and still the chorus of the desert swelled between like the deepest tone of a mighty organ; and with the final peal of that dreadful anthem there came a sound, as if the roaring wind, the rushing streams, the howling beasts, and every other voice of the unconcerted wilderness were mingling and according with the voice of guilty man in homage to the prince of all. The four blazing pines threw up a loftier flame, and obscurely discovered shapes and visages of horror on the smoke wreaths above the impious assembly. At the same moment the fire on the rock shot redly forth and formed a glowing arch above its base, where now appeared a figure. With reverence be it spoken, the figure bore no slight similitude, both in garb and manner, to some grave divine of the New England churches.
"Bring forth the converts!" cried a voice that echoed through the field and rolled into the forest.
At the word, Goodman Brown stepped forth from the shadow of the trees and approached the congregation, with whom he felt a loathful brotherhood by the sympathy of all that was wicked in his heart. He could have well-nigh sworn that the shape of his own dead father beckoned him to advance, looking downward from a smoke wreath, while a woman, with dim features of despair, threw out her hand to warn him back. Was it his mother? But he had no power to retreat one step, nor to resist, even in thought, when the minister and good old Deacon Gookin seized his arms and led him to the blazing rock. Thither came also the slender form of a veiled female, led between Goody Cloyse, that pious teacher of the catechism, and Martha Carrier, who had received the devil's promise to be queen of hell. A rampant hag was she. And there stood the proselytes beneath the canopy of fire.
"Welcome, my children," said the dark figure, "to the communion of your race. Ye have found thus young your nature and your destiny. My children, look behind you!"
They turned; and flashing forth, as it were, in a sheet of flame, the fiend worshippers were seen; the smile of welcome gleamed darkly on every visage.
"There," resumed the sable form, "are all whom ye have reverenced from youth. Ye deemed them holier than yourselves, and shrank from your own sin, contrasting it with their lives of righteousness and prayerful aspirations heavenward. Yet here are they all in my worshipping assembly. This night it shall be granted you to know their secret deeds: how hoary-bearded elders of the church have whispered wanton words to the young maids of their households; how many a woman, eager for widows' weeds, has given her husband a drink at bedtime and let him sleep his last sleep in her bosom; how beardless youths have made haste to inherit their fathers' wealth; and how fair damsels—blush not, sweet ones—have dug little graves in the garden, and bidden me, the sole guest to an infant's funeral. By the sympathy of your human hearts for sin ye shall scent out all the places—whether in church, bedchamber, street, field, or forest—where crime has been committed, and shall exult to behold the whole earth one stain of guilt, one mighty blood spot. Far more than this. It shall be yours to penetrate, in every bosom, the deep mystery of sin, the fountain of all wicked arts, and which inexhaustibly supplies more evil impulses than human power—than my power at its utmost—can make manifest in deeds. And now, my children, look upon each other."
They did so; and, by the blaze of the hell-kindled torches, the wretched man beheld his Faith, and the wife her husband, trembling before that unhallowed altar.
"Lo, there ye stand, my children," said the figure, in a deep and solemn tone, almost sad with its despairing awfulness, as if his once angelic nature could yet mourn for our miserable race.
"Depending upon one another's hearts, ye had still hoped that virtue were not all a dream. Now are ye undeceived. Evil is the nature of mankind. Evil must be your only happiness. Welcome again, my children, to the communion of your race."
"Welcome," repeated the fiend worshippers, in one cry of despair and triumph.
And there they stood, the only pair, as it seemed, who were yet hesitating on the verge of wickedness in this dark world. A basin was hollowed, naturally, in the rock. Did it contain water, reddened by the lurid light? or was it blood? or, perchance, a liquid flame? Herein did the shape of evil dip his hand and prepare to lay the mark of baptism upon their foreheads, that they might be partakers of the mystery of sin, more conscious of the secret guilt of others, both in deed and thought, than they could now be of their own. The husband cast one look at his pale wife, and Faith at him. What polluted wretches would the next glance show them to each other, shuddering alike at what they disclosed and what they saw!
"Faith! Faith!" cried the husband, "look up to heaven, and resist the wicked one."
Whether Faith obeyed he knew not. Hardly had he spoken when he found himself amid calm night and solitude, listening to a roar of the wind which died heavily away through the forest. He staggered against the rock, and felt it chill and damp; while a hanging twig, that had been all on fire, besprinkled his cheek with the coldest dew.
The next morning young Goodman Brown came slowly into the street of Salem village, staring around him like a bewildered man. The good old minister was taking a walk along the graveyard to get an appetite for breakfast and meditate his sermon, and bestowed a blessing, as he passed, on Goodman Brown. He shrank from the venerable saint as if to avoid an anathema. Old Deacon Gookin was at domestic worship, and the holy words of his prayer were heard through the open window. "What God doth the wizard pray to?" quoth Goodman Brown. Goody Cloyse, that excellent old Christian, stood in the early sunshine at her own lattice, catechizing a little girl who had brought her a pint of morning's milk. Goodman Brown snatched away the child as from the grasp of the fiend himself. Turning the corner by the meeting-house, he spied the head of Faith, with the pink ribbons, gazing anxiously forth, and bursting into such joy at sight of him that she skipped along the street and almost kissed her husband before the whole village. But Goodman Brown looked sternly and sadly into her face, and passed on without a greeting.
Had Goodman Brown fallen asleep in the forest and only dreamed a wild dream of a witch-meeting?
Be it so if you will; but, alas! it was a dream of evil omen for young Goodman Brown. A stern, a sad, a darkly meditative, a distrustful, if not a desperate man did he become from the night of that fearful dream. On the Sabbath day, when the congregation were singing a holy psalm, he could not listen because an anthem of sin rushed loudly upon his ear and drowned all the blessed strain. When the minister spoke from the pulpit with power and fervid eloquence, and, with his hand on the open Bible, of the sacred truths of our religion, and of saint-like lives and triumphant deaths, and of future bliss or misery unutterable, then did Goodman Brown turn pale, dreading lest the roof should thunder down upon the gray blasphemer and his hearers. Often, waking suddenly at midnight, he shrank from the bosom of Faith; and at morning or eventide, when the family knelt down at prayer, he scowled and muttered to himself, and gazed sternly at his wife, and turned away. And when he had lived long, and was borne to his grave a hoary corpse, followed by Faith, an aged woman, and children and grandchildren, a goodly procession, besides neighbors not a few, they carved no hopeful verse upon his tombstone, for his dying hour was gloom.
Did the story hold you in suspense, or did you find the plot predictable? What did you think of the ending? What did you think of Hawthorne's style of writing? What is Hawthorne saying about the society in which Goodman Brown lives? What is Hawthorne saying about Goodman Brown?
Do you think "Young Goodman Brown" has several sub-climaxes, or are his encounters with the townspeople just part of the rising action? Explain your reasoning.
What conflicts does Goodman Brown encounter? Are they internal conflicts, external conflicts, or both? Explain your reasoning.
We know that Goodman Brown is the protagonist of the story. However, who is the antagonist? Is there more than one?
What is the setting of "Young Goodman Brown"? What is the mood of "Young Goodman Brown"?
List some possible themes in "Young Goodman Brown." Remember, a theme is expressed in a sentence, not in one or two words. Are there any motifs in "Young Goodman Brown" to reinforce the themes you listed? What are they?
You may enter your responses to the discussion questions in the following form.
Here's an audio of "Young Goodman Brown":
https://www.youtube.com/watch?v=TAqMd6ObUj8
Short video of the story:
O. Henry
O. Henry, whose real name was William Sydney Porter, was an American author of short stories. His works are remembered for their wit and wordplay, and often feature surprise endings, as seen in his Christmas story, "The Gift of the Magi."
O. Henry was born in North Carolina in 1862. He moved to Texas in 1882 and to Austin in 1884. He was employed in a variety of jobs throughout his life: pharmacist, draftsman, bank teller, and journalist. He wrote stories in his spare time and sent submissions to newspapers and magazines. From 1887 to 1891 he worked as a draftsman in the Texas General Land Office, drawing maps. He later worked as a teller at the First National Bank in Austin, where some discrepancies in bookkeeping led to him being accused of embezzling funds.
After a move to Houston in 1895, he was convicted of embezzlement and sent to prison. He served his sentence from 1898 to 1901, but continued writing and sending stories to publishers. He first adopted his O. Henry pseudonym with the publication of "Whistling Dick's Christmas Stocking" in December 1899. After his release from prison until his death in 1910, O. Henry lived in New York City. He wrote nearly 400 short stories in this period, including more than a year's worth of weekly stories for the New York World Sunday Magazine.
Here's an audio of O. Henry speaking to his readers:
O. Henry wrote "The Gift of the Magi" in 1905.
"The Gift of the Magi"
One dollar and eighty-seven cents. That was all. And sixty cents of it was in pennies. Pennies saved one and two at a time by bulldozing the grocer and the vegetable man and the butcher until one's cheeks burned with the silent imputation of parsimony that such close dealing implied. Three times Della counted it. One dollar and eighty-seven cents. And the next day would be Christmas.
There was clearly nothing to do but flop down on the shabby little couch and howl. So Della did it. Which instigates the moral reflection that life is made up of sobs, sniffles, and smiles, with sniffles predominating.
While the mistress of the home is gradually subsiding from the first stage to the second, take a look at the home. A furnished flat at $8 per week. It did not exactly beggar description, but it certainly had that word on the lookout for the mendicancy squad.
In the vestibule below was a letter-box into which no letter would go, and an electric button from which no mortal finger could coax a ring. Also appertaining thereunto was a card bearing the name "Mr. James Dillingham Young."
The "Dillingham" had been flung to the breeze during a former period of prosperity when its possessor was being paid $30 per week. Now, when the income was shrunk to $20, the letters of "Dillingham" looked blurred, as though they were thinking seriously of contracting to a modest and unassuming D. But whenever Mr. James Dillingham Young came home and reached his flat above he was called "Jim" and greatly hugged by Mrs. James Dillingham Young, already introduced to you as Della. Which is all very good.
Della finished her cry and attended her cheeks with the powder rag. She stood by the window and looked out dully at a gray cat walking a gray fence in a gray backyard. To-morrow would be Christmas Day, and she had only $1.87 with which to buy Jim a present. She had been saving every penny she could for months, with this result. Twenty dollars a week doesn't go far. Expenses had been greater than she had calculated. They always are. Only $1.87 to buy a present for Jim. Her Jim. Many a happy hour she had spent planning for something nice for him. Something fine and rare and sterling—something just a little bit near to being worthy of the honor of being owned by Jim.
There was a pier-glass between the windows of the room. Perhaps you have seen a pier-glass in an $8 flat. A very thin and very agile person may, by observing his reflection in a rapid sequence of longitudinal strips, obtain a fairly accurate conception of his looks. Della, being slender, had mastered the art.
Suddenly she whirled from the window and stood before the glass. Her eyes were shining brilliantly, but her face had lost its color within twenty seconds. Rapidly she pulled down her hair and let it fall to its full length.
Now, there were two possessions of the James Dillingham Youngs in which they both took a mighty pride. One was Jim's gold watch that had been his father's and his grandfather's. The other was Della's hair. Had the Queen of Sheba[13-1] lived in the flat across the airshaft, Della would have let her hair hang out the window some day to dry just to depreciate Her Majesty's jewels and gifts. Had King Solomon been the janitor, with all his treasures piled up in the basement, Jim would have pulled out his watch every time he passed, just to see him pluck at his beard from envy.
So now Della's beautiful hair fell about her, rippling and shining like a cascade of brown waters. It reached below her knee and made itself almost a garment for her. And then she did it up again nervously and quickly. Once she faltered for a minute and stood still where a tear or two splashed on the worn red carpet.
On went her old brown jacket; on went her old brown hat. With a whirl of skirts and with the brilliant sparkle still in her eyes, she fluttered out the door and down the stairs to the street.
Where she stopped the sign read: "Mme. Sofronie, Hair Goods of All Kinds." One flight up Della ran, and collected herself, panting. Madame, large, too white, chilly, hardly looked the "Sofronie."
"Will you buy my hair?" asked Della.
"I buy hair," said Madame. "Take yer hat off and let's have a sight at the looks of it."
Down rippled the brown cascade.
"Twenty dollars," said Madame, lifting the mass with a practiced hand.
"Give it to me quick," said Della.
Oh, and the next two hours tripped by on rosy wings. Forget the hashed metaphor. She was ransacking the stores for Jim's present.
She found it at last. It surely had been made for Jim and no one else. There was no other like it in any of the stores, and she had turned all of them inside out. It was a platinum fob chain, simple and chaste in design, properly proclaiming its value by substance alone and not by meretricious ornamentation—as all good things should do. It was even worthy of The Watch. As soon as she saw it she knew that it must be Jim's. It was like him. Quietness and value—the description applied to both. Twenty-one dollars they took from her for it, and she hurried home with the eighty-seven cents. With that chain on his watch Jim might be properly anxious about the time in any company. Grand as the watch was, he sometimes looked at it on the sly on account of the old leather strap he used in place of a chain.
When Della reached home her intoxication gave way a little to prudence and reason. She got out her curling irons and lighted the gas and went to work repairing the ravages made by generosity added to love. Which is always a tremendous task, dear friends—a mammoth task.
Within forty minutes her head was covered with tiny close-lying curls that made her look wonderfully like a truant schoolboy. She looked at her reflection in the mirror, long, carefully, and critically.
"If Jim doesn't kill me," she said to herself, "before he takes a second look at me, he'll say I look like a Coney Island chorus girl. But what could I do—Oh! what could I do with a dollar and eighty-seven cents?"
At seven o'clock the coffee was made and the frying-pan was on the back of the stove hot and ready to cook the chops.
Jim was never late. Della doubled the fob chain in her hand and sat on the corner of the table near the door that he always entered. Then she heard his step on the stair away down on the first flight, and she turned white for just a moment. She had a habit of saying little silent prayers about the simplest everyday things, and now she whispered: "Please, God, make him think I am still pretty."
The door opened and Jim stepped in and closed it. He looked thin and very serious. Poor fellow, he was only twenty-two—and to be burdened with a family! He needed a new overcoat and he was without gloves.
Jim stopped inside the door, as immovable as a setter at the scent of quail. His eyes were fixed upon Della, and there was an expression in them that she could not read, and it terrified her. It was not anger, nor surprise, nor disapproval, nor horror, nor any of the sentiments that she had been prepared for. He simply stared at her fixedly with that peculiar expression on his face.
Della wriggled off the table and went for him.
"Jim, darling," she cried, "don't look at me that way. I had my hair cut off and sold it because I couldn't live through Christmas without giving you a present. It'll grow out again—you won't mind, will you? I just had to do it. My hair grows awfully fast. Say 'Merry Christmas,' Jim, and let's be happy. You don't know what a nice—what a beautiful, nice gift I've got for you."
"You've cut off your hair?" asked Jim laboriously, as if he had not arrived at that patent fact yet, even after the hardest mental labor.
"Cut it off and sold it," said Della. "Don't you like me just as well, anyhow? I'm me without my hair, ain't I?"
Jim looked about the room curiously.
"You say your hair is gone?" he said, with an air almost of idiocy.
"You needn't look for it," said Della. "It's sold, I tell you—sold and gone, too. It's Christmas Eve, boy. Be good to me, for it went for you. Maybe the hairs of my head were numbered," she went on with a sudden serious sweetness, "but nobody could ever count my love for you. Shall I put the chops on, Jim?"
Out of his trance Jim seemed quickly to wake. He enfolded his Della. For ten seconds let us regard with discreet scrutiny some inconsequential object in the other direction. Eight dollars a week or a million a year—what is the difference? A mathematician or a wit would give you the wrong answer. The magi brought valuable gifts but that was not among them. This dark assertion will be illuminated later.
Jim drew a package from his overcoat pocket and threw it upon the table.
"Don't make any mistake, Dell," he said, "about me. I don't think there is anything in the way of a haircut or a shave or a shampoo that could make me like my girl any less. But if you'll unwrap that package you may see why you had me going a while at first."
White fingers and nimble tore at the string and paper. And then an ecstatic scream of joy; and then, alas! a quick feminine change to hysterical tears and wails, necessitating the immediate employment of all the comforting powers of the lord of the flat.
For there lay The Combs—the set of combs, side and back, that Della had worshipped for long in a Broadway window. Beautiful combs, pure tortoise shell, with jewelled rims—just the shade to wear in the beautiful vanished hair. They were expensive combs, she knew, and her heart had simply craved and yearned over them without the least hope of possession. And now, they were hers, but the tresses that should have adorned the coveted adornments were gone.
But she hugged them to her bosom, and at length she was able to look up with dim eyes and a smile and say: "My hair grows so fast, Jim!"
And then Della leaped up like a little singed cat and cried, "Oh, Oh!"
Jim had not yet seen his beautiful present. She held it out to him eagerly upon her open palm. The dull precious metal seemed to flash with a reflection of her bright and ardent spirit.
"Isn't it a dandy, Jim? I hunted all over town to find it. You'll have to look at the time a hundred times a day now. Give me your watch. I want to see how it looks on it."
Instead of obeying, Jim tumbled down on the couch and put his hand under the back of his head and smiled.
"Dell," said he, "let's put our Christmas presents away and keep 'em a while. They're too nice to use just at present. I sold the watch to get the money to buy your combs. And now suppose you put the chops on."
The magi, as you know, were wise men—wonderfully wise men—who brought gifts to the Babe in the manger. They invented the art of giving Christmas presents. Being wise, their gifts were no doubt wise ones, possibly bearing the privilege of exchange in case of duplication. And here I have lamely related to you the uneventful chronicle of two foolish children in a flat who most unwisely sacrificed for each other the greatest treasures of their house. But in a last word to the wise of these days let it be said that of all who give gifts these two were the wisest. Of all who give and receive gifts, such as they are wisest. Everywhere they are the wisest. They are the magi.
1. Here's an Inflation calculator. Calculate the worth of $1.87 in today's currency. Is this amount important to the story?
2. How does O. Henry use irony in the story?
3. Describe the character of Della and Jim. How do you respond to the reactions of Della and Jim after receiving their gifts?
4. How does O. Henry's use of Biblical references add to the theme of the story?
You may enter your responses to the discussion questions in the following form.
Here is a video of "The Gift of the Magi":
James Joyce
James Joyce was born in Dublin into a middle-class, Catholic family. Joyce's father, John, was a property tax collector whose alcoholism and consequent unreliability steadily reduced the family's income and social standing. Joyce's education became tenuous when, due to financial uncertainty, he was removed from Clongowes Wood College. He studied briefly at Christian Brothers O'Connell School before finding a place at Belvedere College, a Jesuit school. He then studied modern languages at University College Dublin where he immersed himself in literature and theater.
In 1901, Joyce and his partner, Nora Barnacle, left Ireland to live in Trieste, where Joyce taught English; they also lived in Zurich and Paris. Although he lived on the Continent, Joyce's writing consistently drew from his life in Dublin. His own intellectual and artistic growth, his school mates, roommates, acquaintances, and family members shaped and gave focus to his work, as did conflicts arising from Joyce's views on Roman Catholicism and Irish self-governance.
In 1912, he returned briefly to Ireland to see to the publication of The Dubliners (1914), a collection of short stories. Joyce's short stories redefined the traditional short story narrative form by "replacing" the rising-action, climax, and aftermath of Freytag's triangle with Wordsworthian spots of time, or what Joyce termed epiphanies. Its "action" reveals hidden motivations, motivations that are deeper than the "real" situations the stories describe, motivations that lie deep in the unconscious. Joyce's realism ultimately opens up into the human psyche.
Through the financial support of Harriet Shaw Weaver (1876-1961), to whom the American writer Ezra Pound (1885-1972) introduced Joyce while in Zurich, Joyce published Portrait of the Artist as a Young Man, revised from an earlier draft entitled Portrait of the Artist, and worked on his monumental novel Ulysses (1922). Despite financial strain, worsening eyesight, and the mental instability of his and Nora's daughter Lucia, Joyce continued to experiment with writing, gaining literary renown among an important circle of intellectuals and artists. Harriet Shaw Weaver and Maria McDonald Jolas (1893-1987) and Eugene Jolas (1894-1952) supported Joyce as he moved through Ulysses to Finnegan's Wake (1939).
Joyce died in Zurich from surgical complications after a perforated ulcer.
"Araby" is one of the short stories published in Dubliners in 1914.
"Araby"
North Richmond Street, being blind, was a quiet street except at the hour when the Christian Brothers' School set the boys free. An uninhabited house of two storeys stood at the blind end, detached from its neighbours in a square ground. The other houses of the street, conscious of decent lives within them, gazed at one another with brown imperturbable faces.
The former tenant of our house, a priest, had died in the back drawing-room. Air, musty from having been long enclosed, hung in all the rooms, and the waste room behind the kitchen was littered with old useless papers. Among these I found a few paper-covered books, the pages of which were curled and damp: The Abbot, by Walter Scott, The Devout Communicant and The Memoirs of Vidocq. I liked the last best because its leaves were yellow. The wild garden behind the house contained a central apple-tree and a few straggling bushes under one of which I found the late tenant's rusty bicycle-pump. He had been a very charitable priest; in his will he had left all his money to institutions and the furniture of his house to his sister.
When the short days of winter came dusk fell before we had well eaten our dinners. When we met in the street the houses had grown sombre. The space of sky above us was the colour of ever-changing violet and towards it the lamps of the street lifted their feeble lanterns. The cold air stung us and we played till our bodies glowed. Our shouts echoed in the silent street. The career of our play brought us through the dark muddy lanes behind the houses where we ran the gauntlet of the rough tribes from the cottages, to the back doors of the dark dripping gardens where odours arose from the ashpits, to the dark odorous stables where a coachman smoothed and combed the horse or shook music from the buckled harness. When we returned to the street light from the kitchen windows had filled the areas. If my uncle was seen turning the corner we hid in the shadow until we had seen him safely housed. Or if Mangan's sister came out on the doorstep to call her brother in to his tea we watched her from our shadow peer up and down the street. We waited to see whether she would remain or go in and, if she remained, we left our shadow and walked up to Mangan's steps resignedly. She was waiting for us, her figure defined by the light from the half-opened door. Her brother always teased her before he obeyed and I stood by the railings looking at her. Her dress swung as she moved her body and the soft rope of her hair tossed from side to side.
Every morning I lay on the floor in the front parlour watching her door. The blind was pulled down to within an inch of the sash so that I could not be seen. When she came out on the doorstep my heart leaped. I ran to the hall, seized my books and followed her. I kept her brown figure always in my eye and, when we came near the point at which our ways diverged, I quickened my pace and passed her. This happened morning after morning. I had never spoken to her, except for a few casual words, and yet her name was like a summons to all my foolish blood.
Her image accompanied me even in places the most hostile to romance. On Saturday evenings when my aunt went marketing I had to go to carry some of the parcels. We walked through the flaring streets, jostled by drunken men and bargaining women, amid the curses of labourers, the shrill litanies of shop-boys who stood on guard by the barrels of pigs' cheeks, the nasal chanting of street-singers, who sang a come-all-you about O'Donovan Rossa, or a ballad about the troubles in our native land. These noises converged in a single sensation of life for me: I imagined that I bore my chalice safely through a throng of foes. Her name sprang to my lips at moments in strange prayers and praises which I myself did not understand. My eyes were often full of tears (I could not tell why) and at times a flood from my heart seemed to pour itself out into my bosom. I thought little of the future. I did not know whether I would ever speak to her or not or, if I spoke to her, how I could tell her of my confused adoration. But my body was like a harp and her words and gestures were like fingers running upon the wires.
One evening I went into the back drawing-room in which the priest had died. It was a dark rainy evening and there was no sound in the house. Through one of the broken panes I heard the rain impinge upon the earth, the fine incessant needles of water playing in the sodden beds. Some distant lamp or lighted window gleamed below me. I was thankful that I could see so little. All my senses seemed to desire to veil themselves and, feeling that I was about to slip from them, I pressed the palms of my hands together until they trembled, murmuring: "O love! O love!" many times.
At last she spoke to me. When she addressed the first words to me I was so confused that I did not know what to answer. She asked me was I going to Araby. I forgot whether I answered yes or no. It would be a splendid bazaar, she said; she would love to go.
"And why can't you?" I asked.
While she spoke she turned a silver bracelet round and round her wrist. She could not go, she said, because there would be a retreat that week in her convent. Her brother and two other boys were fighting for their caps and I was alone at the railings. She held one of the spikes, bowing her head towards me. The light from the lamp opposite our door caught the white curve of her neck, lit up her hair that rested there and, falling, lit up the hand upon the railing. It fell over one side of her dress and caught the white border of a petticoat, just visible as she stood at ease.
"It's well for you," she said.
"If I go," I said, "I will bring you something."
What innumerable follies laid waste my waking and sleeping thoughts after that evening! I wished to annihilate the tedious intervening days. I chafed against the work of school. At night in my bedroom and by day in the classroom her image came between me and the page I strove to read. The syllables of the word Araby were called to me through the silence in which my soul luxuriated and cast an Eastern enchantment over me. I asked for leave to go to the bazaar on Saturday night. My aunt was surprised and hoped it was not some Freemason affair. I answered few questions in class. I watched my master's face pass from amiability to sternness; he hoped I was not beginning to idle. I could not call my wandering thoughts together. I had hardly any patience with the serious work of life which, now that it stood between me and my desire, seemed to me child's play, ugly monotonous child's play.
On Saturday morning I reminded my uncle that I wished to go to the bazaar in the evening. He was fussing at the hallstand, looking for the hat-brush, and answered me curtly:
"Yes, boy, I know."
As he was in the hall I could not go into the front parlour and lie at the window. I left the house in bad humour and walked slowly towards the school. The air was pitilessly raw and already my heart misgave me.
When I came home to dinner my uncle had not yet been home. Still it was early. I sat staring at the clock for some time and, when its ticking began to irritate me, I left the room. I mounted the staircase and gained the upper part of the house. The high cold empty gloomy rooms liberated me and I went from room to room singing. From the front window I saw my companions playing below in the street. Their cries reached me weakened and indistinct and, leaning my forehead against the cool glass, I looked over at the dark house where she lived. I may have stood there for an hour, seeing nothing but the brown-clad figure cast by my imagination, touched discreetly by the lamplight at the curved neck, at the hand upon the railings and at the border below the dress.
When I came downstairs again I found Mrs Mercer sitting at the fire. She was an old garrulous woman, a pawnbroker's widow, who collected used stamps for some pious purpose. I had to endure the gossip of the tea-table. The meal was prolonged beyond an hour and still my uncle did not come. Mrs Mercer stood up to go: she was sorry she couldn't wait any longer, but it was after eight o'clock and she did not like to be out late as the night air was bad for her. When she had gone I began to walk up and down the room, clenching my fists. My aunt said:
"I'm afraid you may put off your bazaar for this night of Our Lord."
At nine o'clock I heard my uncle's latchkey in the halldoor. I heard him talking to himself and heard the hallstand rocking when it had received the weight of his overcoat. I could interpret these signs. When he was midway through his dinner I asked him to give me the money to go to the bazaar. He had forgotten.
"The people are in bed and after their first sleep now," he said.
I did not smile. My aunt said to him energetically:
"Can't you give him the money and let him go? You've kept him late enough as it is."
My uncle said he was very sorry he had forgotten. He said he believed in the old saying: "All work and no play makes Jack a dull boy." He asked me where I was going and, when I had told him a second time he asked me did I know The Arab's Farewell to his Steed. When I left the kitchen he was about to recite the opening lines of the piece to my aunt.
I held a florin tightly in my hand as I strode down Buckingham Street towards the station. The sight of the streets thronged with buyers and glaring with gas recalled to me the purpose of my journey. I took my seat in a third-class carriage of a deserted train. After an intolerable delay the train moved out of the station slowly. It crept onward among ruinous houses and over the twinkling river. At Westland Row Station a crowd of people pressed to the carriage doors; but the porters moved them back, saying that it was a special train for the bazaar. I remained alone in the bare carriage. In a few minutes the train drew up beside an improvised wooden platform. I passed out on to the road and saw by the lighted dial of a clock that it was ten minutes to ten. In front of me was a large building which displayed the magical name.
I could not find any sixpenny entrance and, fearing that the bazaar would be closed, I passed in quickly through a turnstile, handing a shilling to a weary-looking man. I found myself in a big hall girdled at half its height by a gallery. Nearly all the stalls were closed and the greater part of the hall was in darkness. I recognised a silence like that which pervades a church after a service. I walked into the centre of the bazaar timidly. A few people were gathered about the stalls which were still open. Before a curtain, over which the words Café Chantant were written in coloured lamps, two men were counting money on a salver. I listened to the fall of the coins.
Remembering with difficulty why I had come I went over to one of the stalls and examined porcelain vases and flowered tea-sets. At the door of the stall a young lady was talking and laughing with two young gentlemen. I remarked their English accents and listened vaguely to their conversation.
"O, I never said such a thing!"
"O, but you did!"
"O, but I didn't!"
"Didn't she say that?"
"Yes. I heard her."
"O, there's a … fib!"
Observing me the young lady came over and asked me did I wish to buy anything. The tone of her voice was not encouraging; she seemed to have spoken to me out of a sense of duty. I looked humbly at the great jars that stood like eastern guards at either side of the dark entrance to the stall and murmured:
"No, thank you."
The young lady changed the position of one of the vases and went back to the two young men. They began to talk of the same subject. Once or twice the young lady glanced at me over her shoulder.
I lingered before her stall, though I knew my stay was useless, to make my interest in her wares seem the more real. Then I turned away slowly and walked down the middle of the bazaar. I allowed the two pennies to fall against the sixpence in my pocket. I heard a voice call from one end of the gallery that the light was out. The upper part of the hall was now completely dark.
Gazing up into the darkness I saw myself as a creature driven and derided by vanity; and my eyes burned with anguish and anger.
What are the epiphanies in "Araby"? What psychological insights, if any, to the protagonist do their epiphanies provide?
What realistic elements, or concrete particularities, if any, do "Araby" possess? How do these elements shape the narrative?
How does Joyce use symbolism in "Araby" What is the effect of this symbolism on the narrative?
How does Joyce use point of view in "Araby" ? What's the effect of this use of point of view on the narrative?
You may enter your responses to the discussion questions in the following form.
Audio version of "Araby":
Jamaica Kincaid (1949-)
Jamaica Kincaid, whose original name is Elaine Potter Richardson, was born in Antigua in 1949. She is currently Professor of African and African-American Studies at Harvard University. She grew up in Antigua in poverty, and she had a troubled relationship with her mother, whom she believed neglected her in favor of her brothers. She has said that this relationship shaped her as a writer. As a teenager, she moved to New York city, where she began her career as a writer in her twenties publishing short stories in teen magazines but eventually publishing short fiction in The Village Voice, The Paris Review, and The New Yorker. While she has no college degree, Kincaid wrote for The New Yorker for nearly 20 years.
An interview with Jamaica Kincaid:
https://youtube.com/watch?v=oPgjWIYKm5w%3Ffeature%3Doembed%26rel%3D0
"Girl"
Kincaid's work is often semi-autobiographical; she explores themes of race and gender, particularly in a neo-colonial setting. "Girl" was originally published in the New Yorker magazine in 1978. Written as a dispute between a mother and a daughter, it is a powerful illustration of the limits of a young woman's life in the Caribbean culture of the time.
"Girl" was published in The New Yorker in 1978.
How does the title of the story influence the meaning? How might changing the title impact the story?
Who is the speaker in the story? How would a different speaker change the meaning of the story?
Who is the speaker talking to? How might a different audience impact the story?
In what ways might a modern audience relate to this story?
You may enter your responses to the discussion questions in the following form.
Jamaica Kincaid reads "Girl":
Guy de Maupassant
Henri René Albert Guy de Maupassant (August 5, 1850 – July 6, 1893) was a popular nineteenth-century French writer. He is one of the fathers of the modern short story and its leading practicioner in France. His war stories taken from the Franco-Prussian War of the 1870s denote the futility of war and the innocent civilians who get crushed in it. However, like Anton Chekhov in late nineteenth and early twentieth century Russia, his stories cover the panorama of French life at the end of the nineteenth century, including different social classes and life along the Seine. His short stories are characterized by their economy of style and the efficient way in which the various threads are neatly resolved. He also wrote six novels.
In 1878 he was transferred to the Ministry of Public Instruction, becoming a contributing editor to several leading newspapers such as Le Figaro, Gil Blas, Le Gaulois and l'Echo de Paris. He devoted his spare time to writing novels and short stories.
In 1880 he published his first masterpiece, "Boule de Suif," which met with an instant and tremendous success. Flaubert characterized it as "a masterpiece that will endure." This was Maupassant's first piece of short fiction set during the Franco-Prussian War, and was followed by short stories such as "Deux Amis," "Mother Savage," and "Mademoiselle Fifi."
The decade from 1880 to 1891 was the most fertile period of Maupassant's life. Made famous by his first short story, he worked methodically and produced two or sometimes four volumes annually. He combined talent and practical business sense, which made him wealthy.
In 1881 he published his first volume of short stories under the title of La Maison Tellier; it reached its twelfth edition within two years; in 1883 he finished his first novel, Une Vie (translated into English as A Woman's Life), 25,000 copies of which were sold in less than a year. In his novels, he concentrated all his observations scattered in his short stories. His second novel Bel-Ami, which came out in 1885, had thirty-seven printings in four months.
"The Diamond Necklace" was published in France in 1884.
"The Diamond Necklace"
The girl was one of those pretty and charming young creatures who sometimes are born, as if by a slip of fate, into a family of clerks. She had no dowry, no expectations, no way of being known, understood, loved, married by any rich and distinguished man; so she let herself be married to a little clerk of the Ministry of Public Instruction.
She dressed plainly because she could not dress well, but she was unhappy as if she had really fallen from a higher station; since with women there is neither caste nor rank, for beauty, grace and charm take the place of family and birth. Natural ingenuity, instinct for what is elegant, a supple mind are their sole hierarchy, and often make of women of the people the equals of the very greatest ladies.
Mathilde suffered ceaselessly, feeling herself born to enjoy all delicacies and all luxuries. She was distressed at the poverty of her dwelling, at the bareness of the walls, at the shabby chairs, the ugliness of the curtains. All those things, of which another woman of her rank would never even have been conscious, tortured her and made her angry. The sight of the little Breton peasant who did her humble housework aroused in her despairing regrets and bewildering dreams. She thought of silent antechambers hung with Oriental tapestry, illumined by tall bronze candelabra, and of two great footmen in knee breeches who sleep in the big armchairs, made drowsy by the oppressive heat of the stove. She thought of long reception halls hung with ancient silk, of the dainty cabinets containing priceless curiosities and of the little coquettish perfumed reception rooms made for chatting at five o'clock with intimate friends, with men famous and sought after, whom all women envy and whose attention they all desire.
When she sat down to dinner, before the round table covered with a tablecloth in use three days, opposite her husband, who uncovered the soup tureen and declared with a delighted air, "Ah, the good soup! I don't know anything better than that," she thought of dainty dinners, of shining silverware, of tapestry that peopled the walls with ancient personages and with strange birds flying in the midst of a fairy forest; and she thought of delicious dishes served on marvellous plates and of the whispered gallantries to which you listen with a sphinxlike smile while you are eating the pink meat of a trout or the wings of a quail.
She had no gowns, no jewels, nothing. And she loved nothing but that. She felt made for that. She would have liked so much to please, to be envied, to be charming, to be sought after.
She had a friend, a former schoolmate at the convent, who was rich, and whom she did not like to go to see any more because she felt so sad when she came home.
But one evening her husband reached home with a triumphant air and holding a large envelope in his hand.
"There," said he, "there is something for you."
She tore the paper quickly and drew out a printed card which bore these words:
   The Minister of Public Instruction and Madame Georges Ramponneau
   request the honor of M. and Madame Loisel's company at the palace of
   the Ministry on Monday evening, January 18th.

Instead of being delighted, as her husband had hoped, she threw the invitation on the table crossly, muttering:
"What do you wish me to do with that?"
"Why, my dear, I thought you would be glad. You never go out, and this is such a fine opportunity. I had great trouble to get it. Every one wants to go; it is very select, and they are not giving many invitations to clerks. The whole official world will be there."
She looked at him with an irritated glance and said impatiently:
"And what do you wish me to put on my back?"
He had not thought of that. He stammered:
"Why, the gown you go to the theatre in. It looks very well to me."
He stopped, distracted, seeing that his wife was weeping. Two great tears ran slowly from the corners of her eyes toward the corners of her mouth.
"What's the matter? What's the matter?" he answered.
By a violent effort she conquered her grief and replied in a calm voice, while she wiped her wet cheeks:
"Nothing. Only I have no gown, and, therefore, I can't go to this ball. Give your card to some colleague whose wife is better equipped than I am."
He was in despair. He resumed:
"Come, let us see, Mathilde. How much would it cost, a suitable gown, which you could use on other occasions—something very simple?"
She reflected several seconds, making her calculations and wondering also what sum she could ask without drawing on herself an immediate refusal and a frightened exclamation from the economical clerk.
Finally she replied hesitating:
"I don't know exactly, but I think I could manage it with four hundred francs."
He grew a little pale, because he was laying aside just that amount to buy a gun and treat himself to a little shooting next summer on the plain of Nanterre, with several friends who went to shoot larks there of a Sunday.
But he said:
"Very well. I will give you four hundred francs. And try to have a pretty gown."
The day of the ball drew near and Madame Loisel seemed sad, uneasy, anxious. Her frock was ready, however. Her husband said to her one evening:
"What is the matter? Come, you have seemed very queer these last three days."
And she answered:
"It annoys me not to have a single piece of jewelry, not a single ornament, nothing to put on. I shall look poverty-stricken. I would almost rather not go at all."
"You might wear natural flowers," said her husband. "They're very stylish at this time of year. For ten francs you can get two or three magnificent roses."
She was not convinced.
"No; there's nothing more humiliating than to look poor among other women who are rich."
"How stupid you are!" her husband cried. "Go look up your friend, Madame Forestier, and ask her to lend you some jewels. You're intimate enough with her to do that."
She uttered a cry of joy:
"True! I never thought of it."
The next day she went to her friend and told her of her distress.
Madame Forestier went to a wardrobe with a mirror, took out a large jewel box, brought it back, opened it and said to Madame Loisel:
"Choose, my dear."
She saw first some bracelets, then a pearl necklace, then a Venetian gold cross set with precious stones, of admirable workmanship. She tried on the ornaments before the mirror, hesitated and could not make up her mind to part with them, to give them back. She kept asking:
"Haven't you any more?"
"Why, yes. Look further; I don't know what you like."
Suddenly she discovered, in a black satin box, a superb diamond necklace, and her heart throbbed with an immoderate desire. Her hands trembled as she took it. She fastened it round her throat, outside her high-necked waist, and was lost in ecstasy at her reflection in the mirror.
Then she asked, hesitating, filled with anxious doubt:
"Will you lend me this, only this?"
"Why, yes, certainly."
She threw her arms round her friend's neck, kissed her passionately, then fled with her treasure.
The night of the ball arrived. Madame Loisel was a great success. She was prettier than any other woman present, elegant, graceful, smiling and wild with joy. All the men looked at her, asked her name, sought to be introduced. All the attaches of the Cabinet wished to waltz with her. She was remarked by the minister himself.
She danced with rapture, with passion, intoxicated by pleasure, forgetting all in the triumph of her beauty, in the glory of her success, in a sort of cloud of happiness comprised of all this homage, admiration, these awakened desires and of that sense of triumph which is so sweet to woman's heart.
She left the ball about four o'clock in the morning. Her husband had been sleeping since midnight in a little deserted anteroom with three other gentlemen whose wives were enjoying the ball.
He threw over her shoulders the wraps he had brought, the modest wraps of common life, the poverty of which contrasted with the elegance of the ball dress. She felt this and wished to escape so as not to be remarked by the other women, who were enveloping themselves in costly furs.
Loisel held her back, saying: "Wait a bit. You will catch cold outside. I will call a cab."
But she did not listen to him and rapidly descended the stairs. When they reached the street they could not find a carriage and began to look for one, shouting after the cabmen passing at a distance.
They went toward the Seine in despair, shivering with cold. At last they found on the quay one of those ancient night cabs which, as though they were ashamed to show their shabbiness during the day, are never seen round Paris until after dark.
It took them to their dwelling in the Rue des Martyrs, and sadly they mounted the stairs to their flat. All was ended for her. As to him, he reflected that he must be at the ministry at ten o'clock that morning.
She removed her wraps before the glass so as to see herself once more in all her glory. But suddenly she uttered a cry. She no longer had the necklace around her neck!
"What is the matter with you?" demanded her husband, already half undressed.
She turned distractedly toward him.
"I have—I have—I've lost Madame Forestier's necklace," she cried.
He stood up, bewildered.
"What!—how? Impossible!"
They looked among the folds of her skirt, of her cloak, in her pockets, everywhere, but did not find it.
"You're sure you had it on when you left the ball?" he asked.
"Yes, I felt it in the vestibule of the minister's house."
"But if you had lost it in the street we should have heard it fall. It must be in the cab."
"Yes, probably. Did you take his number?"
"No. And you—didn't you notice it?"
"No."
They looked, thunderstruck, at each other. At last Loisel put on his clothes.
"I shall go back on foot," said he, "over the whole route, to see whether I can find it."
He went out. She sat waiting on a chair in her ball dress, without strength to go to bed, overwhelmed, without any fire, without a thought.
Her husband returned about seven o'clock. He had found nothing.
He went to police headquarters, to the newspaper offices to offer a reward; he went to the cab companies—everywhere, in fact, whither he was urged by the least spark of hope.
She waited all day, in the same condition of mad fear before this terrible calamity.
Loisel returned at night with a hollow, pale face. He had discovered nothing.
"You must write to your friend," said he, "that you have broken the clasp of her necklace and that you are having it mended. That will give us time to turn round."
She wrote at his dictation.
At the end of a week they had lost all hope. Loisel, who had aged five years, declared:
"We must consider how to replace that ornament."
The next day they took the box that had contained it and went to the jeweler whose name was found within. He consulted his books.
"It was not I, madame, who sold that necklace; I must simply have furnished the case."
Then they went from jeweler to jeweler, searching for a necklace like the other, trying to recall it, both sick with chagrin and grief.
They found, in a shop at the Palais Royal, a string of diamonds that seemed to them exactly like the one they had lost. It was worth forty thousand francs. They could have it for thirty-six.
So they begged the jeweler not to sell it for three days yet. And they made a bargain that he should buy it back for thirty-four thousand francs, in case they should find the lost necklace before the end of February.
Loisel possessed eighteen thousand francs which his father had left him. He would borrow the rest.
He did borrow, asking a thousand francs of one, five hundred of another, five louis here, three louis there. He gave notes, took up ruinous obligations, dealt with usurers and all the race of lenders. He compromised all the rest of his life, risked signing a note without even knowing whether he could meet it; and, frightened by the trouble yet to come, by the black misery that was about to fall upon him, by the prospect of all the physical privations and moral tortures that he was to suffer, he went to get the new necklace, laying upon the jeweler's counter thirty-six thousand francs.
When Madame Loisel took back the necklace Madame Forestier said to her with a chilly manner:
"You should have returned it sooner; I might have needed it."
She did not open the case, as her friend had so much feared. If she had detected the substitution, what would she have thought, what would she have said? Would she not have taken Madame Loisel for a thief?
Thereafter Madame Loisel knew the horrible existence of the needy. She bore her part, however, with sudden heroism. That dreadful debt must be paid. She would pay it. They dismissed their servant; they changed their lodgings; they rented a garret under the roof.
She came to know what heavy housework meant and the odious cares of the kitchen. She washed the dishes, using her dainty fingers and rosy nails on greasy pots and pans. She washed the soiled linen, the shirts and the dishcloths, which she dried upon a line; she carried the slops down to the street every morning and carried up the water, stopping for breath at every landing. And dressed like a woman of the people, she went to the fruiterer, the grocer, the butcher, a basket on her arm, bargaining, meeting with impertinence, defending her miserable money, sou by sou.
Every month they had to meet some notes, renew others, obtain more time.
Her husband worked evenings, making up a tradesman's accounts, and late at night he often copied manuscript for five sous a page.
This life lasted ten years.
At the end of ten years they had paid everything, everything, with the rates of usury and the accumulations of the compound interest.
Madame Loisel looked old now. She had become the woman of impoverished households—strong and hard and rough. With frowsy hair, skirts askew and red hands, she talked loud while washing the floor with great swishes of water. But sometimes, when her husband was at the office, she sat down near the window and she thought of that gay evening of long ago, of that ball where she had been so beautiful and so admired.
What would have happened if she had not lost that necklace? Who knows? who knows? How strange and changeful is life! How small a thing is needed to make or ruin us!
But one Sunday, having gone to take a walk in the Champs Elysees to refresh herself after the labors of the week, she suddenly perceived a woman who was leading a child. It was Madame Forestier, still young, still beautiful, still charming.
Madame Loisel felt moved. Should she speak to her? Yes, certainly. And now that she had paid, she would tell her all about it. Why not?
She went up.
"Good-day, Jeanne."
The other, astonished to be familiarly addressed by this plain good-wife, did not recognize her at all and stammered:
"But—madame!—I do not know—You must have mistaken."
"No. I am Mathilde Loisel."
Her friend uttered a cry.
"Oh, my poor Mathilde! How you are changed!"
"Yes, I have had a pretty hard life, since I last saw you, and great poverty—and that because of you!"
"Of me! How so?"
"Do you remember that diamond necklace you lent me to wear at the ministerial ball?"
"Yes. Well?"
"Well, I lost it."
"What do you mean? You brought it back."
"I brought you back another exactly like it. And it has taken us ten years to pay for it. You can understand that it was not easy for us, for us who had nothing. At last it is ended, and I am very glad."
Madame Forestier had stopped.
"You say that you bought a necklace of diamonds to replace mine?"
"Yes. You never noticed it, then! They were very similar."
And she smiled with a joy that was at once proud and ingenuous.
Madame Forestier, deeply moved, took her hands.
"Oh, my poor Mathilde! Why, my necklace was paste! It was worth at most only five hundred francs!"
How does the title influence the reading of the story?
Describe the setting of the story. How does the setting impact the story?
What role do the minor characters play in this story?
Maupassant is known for his surprise endings. Was the ending of this story a surprise? How so?
You may enter your responses to the discussion questions in the following form.
Video version of "The Diamond Necklace":
Tim O'Brien
Tim O'Brien grew up in small-town Minnesota and describes himself as a
dreamer, not big enough to compete in sports, who made good grades and
loved magic tricks. In 1968, he was drafted into the Army's 46th Infantry
and sent to Vietnam. Though politically he was against the war, O'Brien
served as a foot soldier in the Quang Ngai province from 1969 until 1970,
when he was hit by shrapnel from a hand grenade, earning the Purple
Heart and a ticket home.
The Things They Carried was published in 1990, twenty years after Tim
O'Brien returned from his tour of duty in Vietnam. By most estimates, nearly 9 million men served in the military between 1964 and 1975.
Of that number, approximately 3.5 million men served in the Vietnam theatre of operations. The draft called more than 2 million men for military service during the Vietnam era. It has also been credited with "encouraging" many volunteers to join the armed services rather than risk
being drafted into combat.
Mostly narrated by a first-person narrator whose name is the same as the author's, the similarities between events that take place in O'Brien's writing and his life are evident. Yet, however cleverly The Things They Carried incorporates elements of memoir, it remains a work of fiction
because the author invented and embellished the stories within its pages. O'Brien has explained in many interviews that he sees little correlation between "truth" in literature and what actually happened. Instead, O'Brien creates stories that lead readers who have not experienced the horrors of war to an understanding of its emotional and physical toll.
O'Brien telling a true war story:
The short story, "The Things They Carried," is the first chapter of the book. It was first published in 1986 in Esquire Magazine.
"The Things They Carried" (1986) (This link takes you directly to the ebook at the YC Library. Read Chapter 1.) This original text of the short story alone is also available online at Esquire with a subscription.
Make a list of items that the soldiers in the story carried. Which, if any, of the items is specific to the time period of the Vietnam War? Which items are timeless? Why might Tim O'Brien choose to give each man specific items in addition to the typical soldier's gear? What do the items tell us about each solder's duties and personality? What do we learn about their hopes and desires?
How does O'Brien's use of figurative language enhance the reader's experience?
How does O'Brien use symbols?
Discuss the nature of fiction vs. non-fiction. How does this story blur the lines between the two?
If you read "The People We Marry," compare the two pieces.
You may enter your responses to the discussion questions in the following form.
Tim O'Brien speaks about "The Things They Carried":
Flannery O'Connor (1925-1964)
Mary Flannery O'Connor (March 25, 1925 – August 3, 1964) was an American author, born in Savannah, Georgia. She is generally seen as an example of a style of writing known as "Southern Gothic." Southern Gothic is a subgenre of the Gothic writing style, unique to American literature. Like its parent genre, it relies on supernatural, ironic, or unusual events to guide the plot. Unlike its predecessor, it uses these tools not for the sake of suspense, but to explore social issues and reveal the cultural character of the American South.
O'Connor's writing was deeply informed by the sacramental, and by the Thomistic notion that the created world is charged with God. Yet she would not write apologetic fiction of the kind prevalent in the Catholic literature of the time, explaining that a writer's meaning must be evident in his or her fiction without didacticism. She wrote ironic, subtly allegorical fiction about deceptively backward Southern characters, usually fundamentalist Protestants, who undergo transformations of character that, in O'Connor's view, brought them closer to the Catholic mind. The transformation is often accomplished through pain and violence. However grotesque the setting, she tried to portray her characters as they might be touched by divine grace—not in the Protestant sense of total absolution of sins, but rather as an incremental growth of character.
An important voice in American literature, O'Connor wrote two novels and 31 short stories, as well as a number of reviews and commentaries. Her texts often take place in the South and revolve around morally flawed characters, while the issue of race looms in the background. A trademark of hers is unsubtle foreshadowing, giving a reader an idea of what will happen far before it happens. Finally, she brands each work with a disturbing and ironic conclusion.
"A Good Man is Hard to Find" was first published in 1953 in the anthology The Avon Book of Modern Writing. Because of its publication in many anthologies, "A Good Man Is Hard to Find" became one of O'Connor's best known works.
Listen to the audio version of the story by Hannah's Books:
Sillick Family Productions made a Lego movie version of the story:
1. Describe the character of the grandmother. Is she a likeable character? Explain. How did you feel when The Misfit killed her? Why?
2. How would you characterize the other members of the family? How does imagery play into the author's characterizations?
3. How does O'Connor use foreshadowing?
4. How does the author explore the meaning of the word "good"?
You may enter your responses to the discussion questions in the following form.
Flannery O'Connor Reads "A Good Man is Hard to Find":
Katherine Anne Porter (1890-1980)
Katherine Porter was an American essayist, short story writer, and journalist, whose only novel was Ship of Fools (1962), an allegorical story set on a passenger ship. Before the work was finished, Porter spent twenty years with it. Porter is also remembered as one of America's best short-story writers.
Porter was born Callie Russell Porter in Indian Creek, Texas, but she grew up in Hays County, Texas. Part of her childhood was spent also in Louisiana. She was the fourth child of Harrison Boone Porter and Mary Alice Jones Porter, who died when Katherine Anne was two. Later she blamed her father for the death of her mother, who had given birth to five children in eight years.
Porter's paternal grandmother, Catharine Ann Skaggs Porter, who raised Katherine's father, was a stern disciplinarian. However, Catharine's reminiscences of the Civil War and tales of her family's past were Porter's first introduction to the art of storytelling. She died when Porter was eleven, but her strong character provided a model for grandmothers in her stories.
Porter was educated in convent schools though her formal education was rather irregular. At the age of sixteen she ran away from a New Orleans convent and married the first of her four husbands, John Koontz. This marriage lasted nine years; religion was the first of many differences. After their divorce, Porter contracted tuberculosis and during her recovery she decided to became a writer. Her study Outline of Mexican Popular Arts and Crafts came out in 1922.
Porter's first collection of short stories was Flowering Judas. The limited edition of 600 copies appeared in 1930. However, this work established her reputation as a highly original writer and earned her a Guggenheim grant. The collection was enlarged in 1935.
Other works include Pale Horse, Pale Rider (1939), The Learning Tower (1944), essay collections The Days Before (1952) and A Defense Circle (1954), and her Collected Stories (1965), which was awarded in 1966 both the Pulitzer Prize and the National Book Award. Her only novel, Ship of Fools, which came out when Porter was 72, made her rich and famous.
Here is an interview with Katherine Anne Porter.
A video of Katherine Anne Porter:
Read "Flowering Judas" HERE.
1.) Discuss the character of Laura. What do we know about her character from the details revealed in the story? Why do you think she makes the decisions she does? How do you feel about her?

2.) Talk about Braggioni. How is he important to the story? What does he represent? How would you describe the relationship between Braggioni and Laura?

3.) Give some examples of imagery in this story. How does the imagery contribute to the theme of the story?
You may enter your responses to the discussion questions in the following form.
Radio dramatization of "Flowering Judas" with Katherine Anne Porter:
Amy Tan
Amy Ruth Tan (born February 19, 1952) is an American author known for the novel The Joy Luck Club, which was adapted into the film The Joy Luck Club in 1993 by director Wayne Wang.
Tan was born in Oakland, California. She is the second of three children born to Chinese immigrants John and Daisy Tan. Tan attended Marian A. Peterson High School in Sunnyvale for one year. When she was fifteen years old, her father and older brother Peter both died of brain tumors within six months of each other.
Tan's mother subsequently moved Amy and her younger brother, John Jr., to Switzerland, where Amy finished high school. During this period, Amy learned about her mother's previous marriage to another man in China, of their four children (a son who died as a toddler and three daughters), and how her mother left these children behind in Shanghai. This incident was the basis for Tan's first novel The Joy Luck Club. In 1987, Amy traveled with Daisy to China. There, Amy met her three half-sisters.
Tan had a difficult relationship with her mother, who wanted Tan to be independent and stressed that Tan needed to make sure she was self-sufficient. Tan's mother died in 1999.
Tan later received bachelor's and master's degrees in English and linguistics from San Jose State University. She took doctoral courses in linguistics at University of California, Santa Cruz, and University of California, Berkeley.
Tan has written several other novels, including The Kitchen God's Wife, The Hundred Secret Senses, The Bonesetter's Daughter, Saving Fish from Drowning, and The Valley of Amazement. Tan's latest book is a memoir entitled Where The Past Begins: A Writer's Memoir (2017). In addition to these, Tan has written two children's books: The Moon Lady (1992) and Sagwa, the Chinese Siamese Cat (1994), which was turned into an animated series that aired on PBS.
Learn more about Amy Tan on her website.
Watch this interview with Amy Tan:
"Two Kinds" is an excerpt from chapter 8 of Tan's novel The Joy Luck Club, published in 1989.
Joy Luck Club
is available to YC students via both print and ebook in the library catalog:
Joy Luck Club
Questions for Consideration
What does the title of the story refer to?
How does the mother's use of language impact the story?
Discuss the mother in this story. How have her life experiences shaped the person that she is and the way in which she relates to her daughter?
Describe the character of the daughter. What moments in the text best highlight her personality and desires?
Does the relationship between the mother and daughter reflect common values shared among all cultures? Explain.
What is the significance of the two pieces the daughter plays on the piano, "Pleading Child" and "Perfectly Contented"?
You may enter your responses to the discussion questions in the following form.
Here is an audio version of "Two Kinds":
The two songs from "Two Kinds":
https://www.youtube.com/playlist?list=PLK2NuJ8mQgRVjRkKByeESO2RVG_ZJQAOn
Watch this scene from "Two Kinds" from The Joy Luck Club:
Alice Walker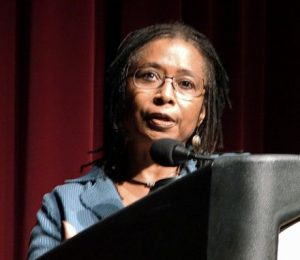 Alice Malsenior Walker, born February 9, 1944, is an American author and self-declared feminist and womanist—the latter a term she herself coined to make special distinction for the experiences of women of color. She has written at length on issues of race and gender, and is most famous for the critically acclaimed novel The Color Purple, for which she won the Pulitzer Prize for Fiction.
Alice Walker was born in Eatonton, Georgia, the 8th child in her family. After high school, Walker went to Spelman College in Atlanta on full scholarship in 1961 and later transferred to Sarah Lawrence College near New York City, graduating in 1965.
Alice Walker's first book of poetry was written while she was still a senior at Sarah Lawrence, however she took a brief sabbatical from writing when she was in Mississippi working in the Civil Rights Movement, after which she accepted a position at Wellesley College where she taught a course on African-American women's literature in 1972. Walker resumed her writing career when she joined Ms. magazine as an editor before moving to northern California in the late 1970s. An article she published in 1975 was largely responsible for the renewal of interest in the work of Zora Neale Hurston, who was an important source of inspiration for Walker's writing and subject matter. In 1973, Walker and fellow Hurston scholar Charlotte D. Hunt discovered Hurston's unmarked grave in Ft. Pierce, Florida.
In addition to her collected short stories and poetry, Walker's first novel, The Third Life of Grange Copeland, was published in 1970. In 1976, Walker's second novel, Meridian, was published. The novel dealt with activist workers in the South during the civil rights movement, and closely paralleled some of Walker's own experiences.
"Everyday Use" was published in Harper's Magazine in April 1973. Please watch this interview with Walker on the story:
Questions for Consideration
1.) Discuss the narrator in this story. Who is the narrator? What kind of person is she? How does she seem to feel about Dee? About Maggie?
2.) What does the narrator's language and grammatical usage tell us about her?
3.) How does the narrator prepare the reader for Dee before she arrives?
4.) Describe Dee's character. What kind of person is she? What do Dee's actions (taking photos, kissing her mother on the forehead, assuming African dress, etc) tell readers about her? How would you describe her attitude toward her race? How do Dee's reactions to her mother's home impact how readers see her?

5.) Discuss the relationship between Maggie and Dee.

6.) Why do you think Mrs. Johnson decide to stand up to Dee and not allow her to take the quilts at the end of the story?
7.) Could this story just as well have been about a mother and her daughters of another race? Does anything distinguish Dee's relations with her mother and Maggie as especially black? If not, is that a strength of the story, or a weakness?

You may enter your responses to the discussion questions in the following form.
Watch a film based on "Everyday Use":
Kurt Vonnegut, Jr. (1922-2007)
Kurt Vonnegut Jr. was an American writer. In a career spanning over 50 years, Vonnegut published fourteen novels, three short story collections, five plays, and five works of nonfiction, with further collections being published after his death. He is most famous for his darkly satirical, bestselling novel Slaughterhouse-Five (1969).
Born and raised in Indianapolis, Indiana, Vonnegut attended Cornell University but dropped out in January 1943 and enlisted in the United States Army. As part of his training, he studied mechanical engineering at Carnegie Institute of Technology (now Carnegie Mellon University) and the University of Tennessee. He was then deployed to Europe to fight in World War II and was captured by the Germans during the Battle of the Bulge. He was interned in Dresden and survived the Allied bombing of the city by taking refuge in a meat locker of the slaughterhouse where he was imprisoned. After the war, Vonnegut married Jane Marie Cox, with whom he had three children. He later adopted his sister's sons after she died of cancer and her husband was killed in a train accident.
Vonnegut published his first novel, Player Piano, in 1952. The novel was reviewed positively but was not commercially successful at the time. In the nearly 20 years that followed, Vonnegut published several novels that were well regarded, two of which (The Sirens of Titan [1959] and Cat's Cradle [1963]) were nominated for the Hugo Award for best novel. He published a short story collection titled Welcome to the Monkey House in 1968. Vonnegut's breakthrough was his commercially and critically successful sixth novel, Slaughterhouse-Five. The book's anti-war sentiment resonated with its readers amidst the ongoing Vietnam War and its reviews were generally positive. After its release, Slaughterhouse-Five went to the top of The New York Times Best Seller list, thrusting Vonnegut into fame. He was invited to give speeches, lectures and commencement addresses around the country and received many awards and honors.
Later in his career, Vonnegut published several autobiographical essays and short-story collections, including Fates Worse Than Death (1991), and A Man Without a Country (2005). After his death, he was hailed as a black-humor commentator on the society in which he lived and as one of the most important contemporary writers. Vonnegut's son Mark published a compilation of his father's unpublished compositions, titled Armageddon in Retrospect. In 2017, Seven Stories Press published Complete Stories, a collection of Vonnegut's short fiction including five previously unpublished stories. Complete Stories was collected and introduced by Vonnegut friends and scholars Jerome Klinkowitz and Dan Wakefield. Numerous scholarly works have examined Vonnegut's writing and humor.
Vonnegut's short story, "Harrison Bergeron," was first published in 1961.
What is the definition of equality in the story? How does it align with our culture's concept of equality? Yours?
Why do you think other people have not rebelled against the system? Should they? Is the system moral?
Discuss the characters in the story. How does the author develop the characters?
You may enter your responses to the discussion questions in the following form.
Audio Version with Video Clips from film 2081:
https://youtu.be/jfYHXL4p8GA
---
Attributions