Question #2: How do you see your unique identities intersecting with Open?
I definitely think being Indigenous and also having come from a long line of people that have been educated, my grandmother was a nurse and she went to university, my dad was a teacher, and my mom's a museum worker [intersects with Open]. Later on in her life after she raised us, she went and worked in museums. A lot of people in my family have been involved in cultural heritage and cultural education for a long time. As I was growing up, we would go and sometimes perform or we would be involved in cultural events. When you're involved in those kinds of things where culture is so alive and you see things being used in the way that they should be, in the correct, appropriate context, and then you see them then divorced from that, you notice the difference. When you see a dress being worn to be danced in and then you see it behind glass, you instinctively know the difference. You know that there's a change there.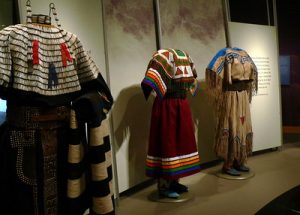 I would say that for me bringing that awareness to librarianship in general has been a huge thing. In the way that we talk about the way that we catalog information and the way that we think about what is worth teaching. When you have come from an Indigenous community, growing up in a family that's been really involved in culture, that's always going to kind of be a bit of a culture shock. In the same way, too, when I was going to grad school I was in British Columbia and that was a totally different context even from a point of indigeneity. West coast culture is so different. I had to do a lot of learning and understanding of their information. I think that helped me articulate a prairie Indigenous perspective on something in opposition to the way people on the west coast think about witnessing, or care and preservation which is done in an importantly different way. I would say that being a Cree-Métis woman has shaped how I come to this question.
I think you really do see the way that Open Access can often be tied to technology. We like sometimes to talk about the tools that we use. By and large, a lot of tech librarians are men. That's an area that is often male dominated. So we really see that some of those interventions, some of those critiques, are coming from a lot of women that are on the fringes, on the outside, from different countries, and from different identities. I think that absolutely indigeneity and also being a Native woman plays into how I come to this question.