The Origin of OERigin Stories
In the fall of 2019, at my first Open Education conference, I attended a session titled "Highlighting Women of Color Experiences in Leading OER Projects." The presenters were Ariana Santiago from the University of Houston, Cynthia Orozco from East Los Angeles College, and Regina Gong from Michigan State University. The session was held in a small room and, because the previous session ran long, we had to quickly file into the room as the presenters began. Attendees lined both walls and more people crowded around the doors trying to get in. The audience was more diverse than any other session I'd been to at the conference. This was noticeable because of the lack of diversity at most of the other sessions I'd attended.
The structure of the session was also different. Instead of slide decks with bullet points, the presenters shared pictures that represented their experience in Open Education. This enabled audience members to listen to the presenters' stories instead of scribbling notes or snapping pictures of the screen. Most importantly, half of the session was devoted to audience members talking to each other. I spoke with two other attendees and we shared our experience as Women of Color in Open Education. It was a quick but memorable session. Ariana Santiago, Cynthia Orozco, and Regina Gong held a similar session virtually in 2020 titled "Opening a Space and Place for #WOCinOER: Stories, Experiences, and Narratives" that I attended and found equally inspiring.
The two sessions demonstrated an interest by Black, Indigenous, Asian, Latinx, and other Women of Color working in the Open Education movement at non-profits and institutions to connect with each other. Additionally at the OpenEd19 conference, the poster "Who writes traditional textbooks? Who writes OERs? A Preliminary Analysis" by Malina Thiede of SUNY Plattsburgh illustrated the lack of representation by Women of Color as Open Educational Resource content creators. Although 50% of OER textbook authors are women, only 10% of OER authors are Black, Indigenous, Asian, Latinx, and other People of Color (Thiede, 2019).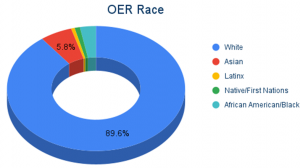 Inspired by the innovative work and research done by the women listed above, I created OERigin Stories as a way to promote the work of Women of Color in Open Education who, despite being underrepresented as OER content creators, are engaged leaders making significant, innovative contributions to the movement. I also included my own responses to the questions because I didn't want the participants to have to answer any questions I myself was not also prepared to answer.