Exercise scenario: Áine's dilemma
In this chapter, you will be presented with a short exercise scenario.
Take a moment to read about Áine.
Watch the video below to find out more about Áine's dilemma.
Consider possible solutions.
Meet Áine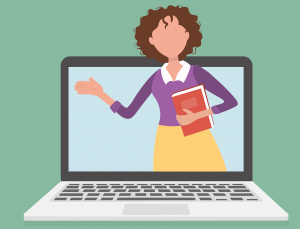 Personal Details:
Áine is a business manager in a production company. She has been working as a part-time educator with the Open Education Unit of DCU for five years.
Motivation:
Áine really enjoyed attending the online Masters programme she completed in the Open Education Unit of DCU and has since relished the opportunity to teach on that programme as a part-time, online educator. She works diligently as an educator in the Open Education Unit, taking a keen interest in her students.
She likes to keep in touch with academic life and is interested in the research aspect of the Masters programme.
Educational Background:
Áine completed an online Masters programme in her discipline with the Open Education Unit of DCU 6 years ago.
Since graduating, she has returned to teach on the programme.
Technical Skills:
Áine is skilled at using both the institution's VLE and classroom technology. She used these as a student while attending the online course.
However, she hasn't tried the newer features, such as polling and sharing screens. She feels that these might enhance her teaching.
Pedagogical Outlook:
Áine is not too happy with how she manages to engage and support students in the online environment. She is not really familiar with the pedagogical aspects of online teaching and learning.
She is willing to attend training sessions, as long as they fit in with her schedule.
Áine's dilemma
Áine is using group discussion forums for the first time, and she has encountered a sticky issue.
Watch Áine's dilemma unfold in the video below, in which Áine explains how her problem with the discussion forums emerged.
What do you think Áine should do?
Call the student and try to resolve the issues
Pass this issue onto the course or programme manager
Tell the other members of the group to get on with the project and ignore the other student
Or is there something else Áine should do?