2.3 What is the role of the online educator?
In the #Openteach report on the literature around online teaching: Teaching online is different: perspectives from the literature  we looked in detail at the different roles that an online educator adopts, a synopsis of the key literature is presented in this section (Ní Shé, Farrell, Brunton, Costello, Donlon,Trevaskis, Eccles, 2019).
There have been many different roles considered for the online educator. In addition, there have been many different approaches to defining those roles. One of the earliest attempts to define the roles and competencies of online educators was by Paulsen (1995), who drew from earlier work on the moderation of computer mediated communication. Three roles were defined; organisational, social and intellectual (Abdous, 2011). One of the articles most referenced within our search on roles was Berge's "Facilitating Computer Conferencing: Recommendations from the Field" (1995) who defined four roles. The first three, managerial, social and pedagogical, are similar to those defined by Paulsen (1995) and the fourth is the technical role.
Goodyear and colleagues used a form of 'crowdsourcing' to investigate the competencies required for online teaching (Goodyear et al.,2001). During a practitioners' workshop in the UK in June 2000 participants were initially asked to identify and describe what they considered as the main roles of online teachers. Eight roles were identified: process facilitator; adviser-counsellor; assessor; researcher; content facilitator; technologist; designer; manager-administrator. For example, Gómez-Rey, Barbera, and Fernández-Navarro (2018) used a 69 item Likert scale survey, administered to students, to complete a bottom up approach to compiling the online educator role descriptions. A new role, the life skills promoter role was identified by the students in this study. This role requires transversal skills such as teaching values and empathy. Badia et al., (2017), examined the roles of online educators with respect to different approaches to teaching in a survey of part-time online educators. They identified a new role, the learning support role. When acting in the learning support or the social role online educators often use a collaborative learning approach.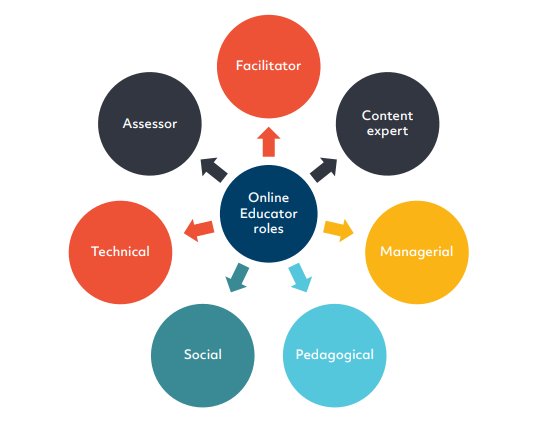 Synthesizing the online educator role from the literature, #Openteach proposed a model of online educator roles, using the following seven roles: facilitator; content expert; managerial; pedagogical; social; technical; and assessor. In addition, there are three roles that may be taken on by other staff involved in the provision of the online course: instructional designer; researcher and evaluator (Ní Shé, Farrell, Brunton, Costello, Donlon,Trevaskis, Eccles, 2019).